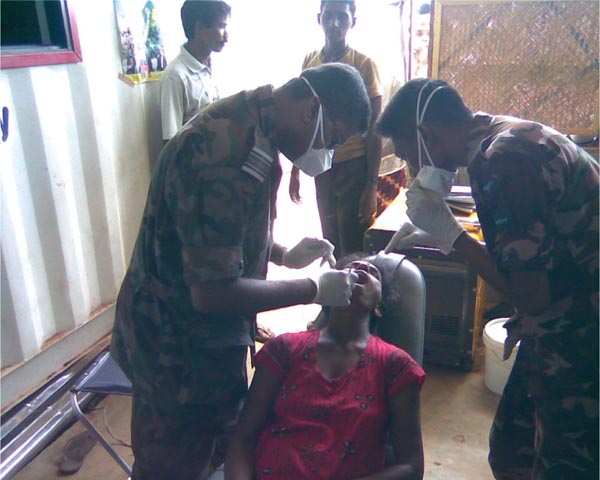 Sri Lanka Air Force on a Special Mission
4:54pm on Sunday 26th July 2009
They were the ones who suffered at the hands of barbaric terrorism for a long, long time. The valiant efforts of our Armed Forces liberated them from the clutches of the Liberation Tigers of the Tamil Eelam (LTTE). They are now away from terror. Now they are free...free from fear, hunger and pain. Now they have a roof over their heads, a place to lie down and sleep peacefully and their health is being looked after in a proper way.
The Internally Displaced Persons (IDP), who are now in Cheddikulam had their first taste of dental care when the Sri Lanka Air Force (SLAF) Dental Team visited the area from 04th to 17th June, 2009. SLAF Dental Team was the first to visit the area to look into the oral health of the IDPs. Air Vice Marshal AMB Amunugama, Director, Dental Services commenting on this unique thrust said, "This special mission conducted by us will consolidate the historical victory achieved by the Sri Lankan military over terrorism and no doubt, will further win the hearts and minds of the people who were liberated." Speaking about how the project was initiated, he said, "SLAF identified the need and importance of vital oral health requirements of the people living in the IDP Camps and Commander of the Air Force instructed to deploy a special contingent of Dental Teams." It was also mentioned that for better communication with people receiving treatment, translator services were also obtained.
The teams commenced their clinics at Zone 4 and moved from zone to zone treating large numbers of needy patients. Long queues of men, women and children were seen outside make- shift, but well equipped dental clinics, eagerly awaiting their turn. Many patients with Caries, Periodontal, Oral medical and surgical problems were treated including patients with trauma due to shrapnel injuries.
The images below are living proof of the hard work of the SLAF Dental Teams and how their efforts touched the lives of the IDPs, slowly treading back to life.