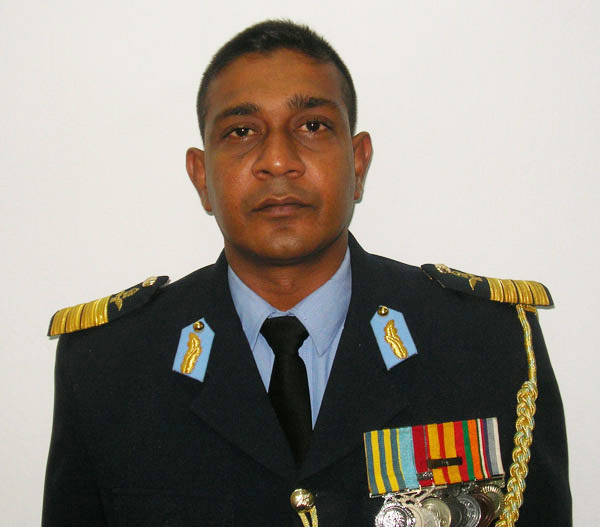 Group Captain Nishantha Dharmadasa Sets High Standards
5:39pm on Wednesday 26th August 2009
The World Boxing Championship is scheduled to take place in Milan, Italy, from 31st August to 13th September, 2009. For this event, the International Boxing Association (AIBA) has adopted a long evaluation process and has exercised extreme condition when selecting officials for the forthcoming World Championship. We are proud to say that Group Captain Nishantha Dharmadasa from the Sri Lanka Air Force, an International (AIBA) Referee-Judge, has been invited to officiate at the prestigious event that no Sri Lankan has ever received before.
Nishantha Dharmadasa, being a full bred Thurstanite and the son of one time great referee and veteran Boxing official Mr. K.V. Dharmadasa who was a most respected referee and judge during his hay days and a Past President of the National Boxing Association of Sri Lanka,had been regularly groomed by his guru Mr. Donald Munasinghe who made him a Referee-Judge in 1999. Former Thurstan Master and Boxing Coach and former President of the Boxing Referees and Judges Association Mr. Munasinghe is the happiest on his protégées achievements.
Since 2003, Nishantha has been officiating as a Referee-Judge at various International meets such as the Military World Games, European Championship, Asian Games, SAF Games and many other International Boxing Tournaments in the world. His last assignment was in the month of June where he officiated at the Asian Elite Boxing Championship in China
On his elite and impeccable performance during the past 4 years, he has been graded among the world best 45 referees by 14 panels and has been elevated to the elite 3-star Class, the highest of the Classification. He has already received his 3-star Referee badge – which no other Sri Lankan in the past had achieved at such high distention in officiating.
For the past decade, Nishantha Dharmadasa has been on the Executive Committee of the ABA Sri Lanka.
Speaking to airforce.lk, Group Captain Dharmadasa wishes to thank the Commander of the Air Force Air Cheif Marshal Roshan Goonathileka and the Board of Management for the support and backing extended, in order for him to participate in such an event and reach such high standards without their support he would not have achieved.