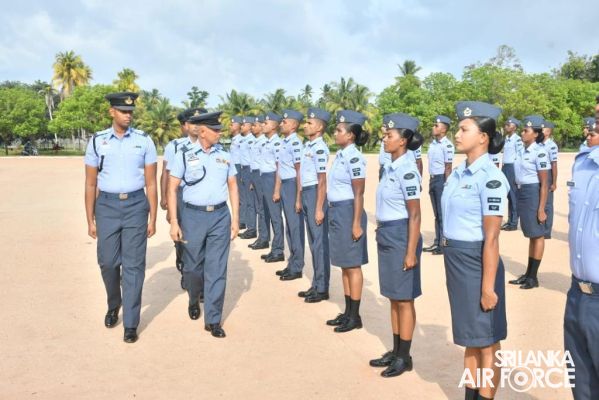 NO 43 COLOUR WING SLAF BASE KATUNAYAKE CELEBRATES 22ND ANNIVERSARY
10:09pm on Wednesday 5th October 2022
No. 43 Colour Wing SLAF Base Katunayake proudly celebrated its 22nd anniversary today (05 October 2022) under the patronage of the present Commanding Officer, Wing Commander Jayarathne Amarasinghe. The celebration commenced with the customary formation day parade, religious ceremony and sports evening.

No. 43 Colour Wing was initially established in the year 2000 as No. 160 Colour Squadron based at SLAF Base China Bay as the main custodian of the President's Colours and conduct ceremonial duties. Subsequently, No.160 Colours Squadron expanded its capabilities, strength to be functioned as a separate formation. Thereby, No. 160 Colour Squadron was reformed as the No. 43 Colour Wing on 02 January 2012 with the main intention of establishing protection and maintenance of President's Colours, standardizing the drill and ceremonial matters in the SLAF, conduct ceremonial functions including the provisioning of assistance in formulating ceremonial based policies in protecting and preserving SLAF image and pride.

In line with the 22nd anniversary of No. 43 Colour Wing the customary parade was conducted at the Base Parade Square premises and followed by an address of the Commanding Officer to all officers, other ranks and civil staff to appreciate the commendable service rendered for the development of the No. 43 Colour Wing.

The Commanding Officer appreciated past members who have contributed for the success of the No. 43 Colour Wing with profound gratitude. Additionally, a religious programme was conducted to invoke blessing to all the service personnel and their families.

Finally, a friendly cricket tournament was held at the Regiment Ground SLAF Base Katunayake where all serving personnel attended, marking the conclusion of the celebration.