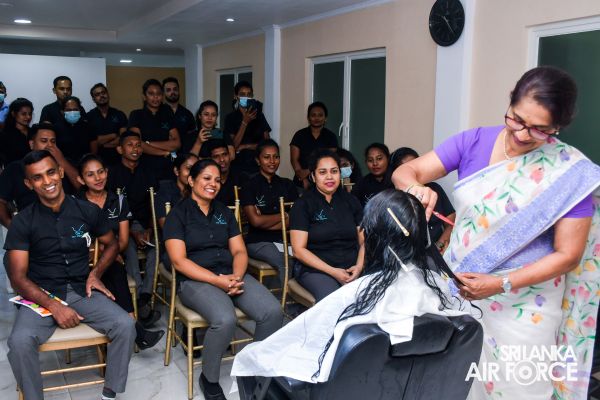 A TRAINING PROGRAMME FOR BEAUTICIANS IN THE SLAF CLIPPERS HAIR AND BEAUTY SALON
2:25pm on Tuesday 25th April 2023
The SLAF Seva Vanitha Unit organized a comprehensive training program at the Clippers Hair and Beauty Salon in Guwanpura yesterday (24 April 2023), under the guidance of its Chairperson, Mrs. Charmini Pathirana. The training program was specifically designed for the beauticians working at the Clippers Hair and Beauty Salon and was conducted by a renowned expert in the field, Mrs. Nayana Karunarthne.

The event was attended by the Commanding Officer of the SLAF Station Colombo, Air Commodore Suresh Fernando, the Officer in Charge of Clippers Hair and Beauty Salon Guwanpura, Group Captain Nishantha Meragalage, the Secretary of the Seva Vanitha Unit, Wing Commander Suresh Fernando, as well as the beauticians and staff of the SLAF Seva Vanitha Unit.

The full-day training program was aimed at enhancing the skills and knowledge of the beauticians, covering various aspects related to the latest trends and techniques in the beauty industry. The event was organized as part of the Seva Vanitha Unit's ongoing efforts to provide professional development opportunities for SLAF beauticians.