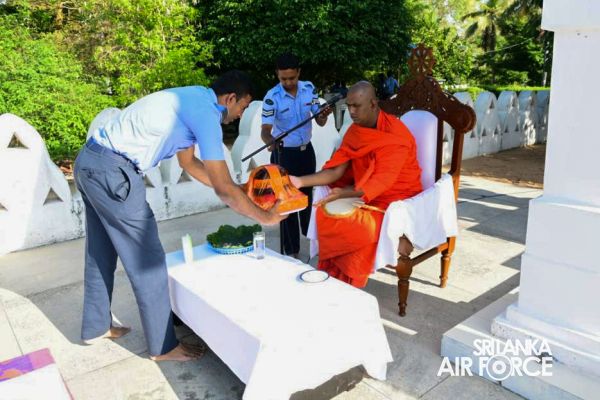 HONORING THE SACRIFICE: REMEMBERING SRI LANKA'S FALLEN AIR HEROES
4:45pm on Friday 28th April 2023
On a solemn day of remembrance, the Sri Lanka Air Force paid tribute to the fallen heroes of two HS-748 Avro aircraft, CR-835 and CR-834, whose fateful crashes marked a turning point in the country's history. The Bana program, held at SLAF Base Katunayake on 28 April 2023, was a poignant ceremony facilitated by No 2 Heavy Transport Squadron honoring the brave crew members who made the supreme sacrifice in the line of duty.

Among those remembered were Squadron Leader SM Gamage (Captain Pilot), Squadron Leader PM Mahamalage (Co-Pilot), Squadron Leader HS Liyanage (Flight Engineer) and Sergeant Darmasena U (Load Master), who were onboard CR-835 with 43 passengers including Group Captain CR Weerasinghe (then Northern Zonal Commander of the SLAF), Wing Commander MAR Fernando, 08 airmen, 26 army personnel and 07 sailors mysteriously crashed on 28 April 1995.

Moreover, Squadron Leader S Pathirathne (Captain Pilot), Flight Lieutenant Abeywickrama (Co-Pilot) and Sergeant Sherifdeen TH (Flight Engineer) who were onboard CR-834 with 47 passengers including the investigation team headed by Group Captain SNH Goonathilake, and others Group Captain DS Wickramasinghe, Wing Commander VK Welgama, Flight Lieutenant SVS Fernando, Flight Lieutenant C Jayasekara and Flight Lieutenant HY Weerasooriya were shot down on 29 April 1995.

These air heroes were the first victims who succumbed from Liberation Tigers of Tamil Ealam's (LTTE) surface to air missiles (SAM) against aircraft. The commemorative event was organized by the Commanding Officer Group Captain Nuwan Welagedara and attended by all officers and other ranks of No 2 Heavy Transport Squadron, SLAF Base Katunayake, as a testament to the enduring legacy of the brave souls of SLAF, who made the ultimate sacrifice for their country. Their courage and devotion will forever be etched in the annals of Sri Lankan military history.