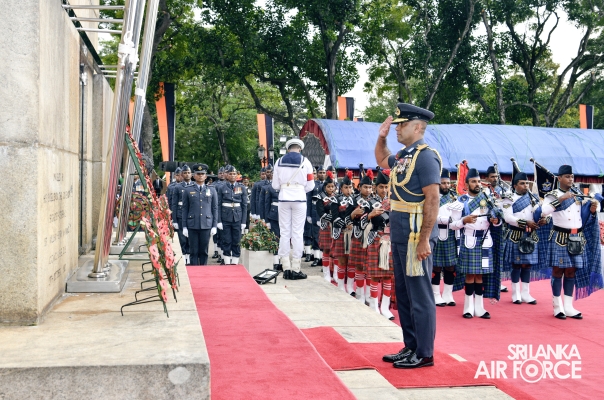 REMEMBRANCE DAY CEREMONY 2023 HELD IN COLOMBO
11:39pm on Saturday 11th November 2023
The Sri Lanka Ex- Servicemen's Association (SLESA) honoured all fallen War Heroes, including those of the World Wars during a fitting ceremony that commemorated Remembrance Day, more popularly known as "Poppy Day", at the Vihara Maha Devi Park Cenotaph today (11 November 2022). The President of Democratic Socialist Republic of Sri Lanka, Hon. Ranil Wickremasinghe graced the occasion as the Chief Guest.

The State Minister of Defence, Hon. Pramitha Bandara tennakoon, Minister of State for Media, Shantha Bandara, Presidential Senior Adviser on National Security and Chief of Presidential Staff, Sagala Ratnayake, Secretary to the Ministry of Defence, General Kamal Gunaratne (Retd) , Chief of Defence Staff, Commanders of the Army and Navy, Chief of Staff of the SLAF, Air Vice Marshal Sampath Wickremaratne in the absence of the Commander of the Air Force who is away on an official commitment, past Tri-Service commanders and members of Tri-Services attended for the ceremony.

The War Memorial in Colombo was initially raised at the Galle Face but the Cenotaph was later dismantled and reassembled at its present location during the Second World War. The Cenotaph contains the names of those killed during First World War, while the Memorial Wall behind it maintains the names of those killed in the Second World War.