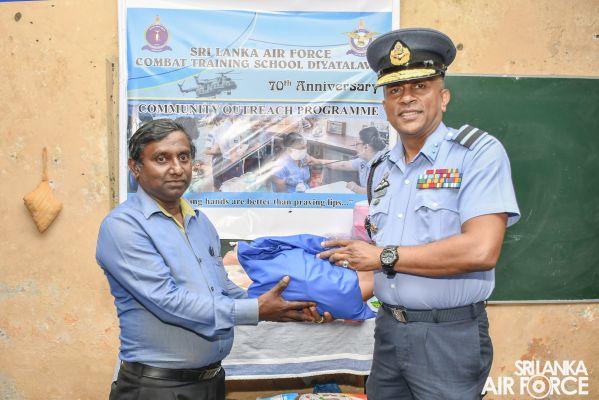 SLAF COMBAT TRAINING SCHOOL DIYATALAWA PROUDLY CELEBRATES 70TH ANNIVERSARY
10:06am on Tuesday 18th October 2022
SLAF Combat Training School Diyatalawa celebrated its 70th anniversary on 15th October 2022 with series of Community Service projects, recreational and religious activities under the guidance of the Commanding Officer, Air Commodore SPVK Senadheera together with all officers, other ranks and the civil staff.

The day's proceedings ensued with the customary working parade at the famous Bently Ground, which the Commanding Officer reviewed. In remarks, the Commanding Officer emphasized the importance and historical significance of the Combat Training School as well as how it has changed over the years. Also thanked all of the officers, airmen, airwomen and civilians who have contributed over the past seven decades to the transformation and development of the School.

In line with the formation day celebrations, a tree planting campaign within the School premises, Shramadana Campaigns in the town area of Diyatalawa, Base Hospital Diyatalawa, Ayurvedic Hospital Diyatalawa were conducted. A special medical and dental clinic camp and donation of dry rations and sanitary items were conducted at Differently abled School at Dowa, Kumbalwela.

The religious blessings on the School were invoked by conducting a series of Bodhi pooja , Blessing Mass at Roman Catholic Church Diyatalawa, Hindu Kovil Diyatalawa and AL Badariya Jummah Mosque Kahagolla.