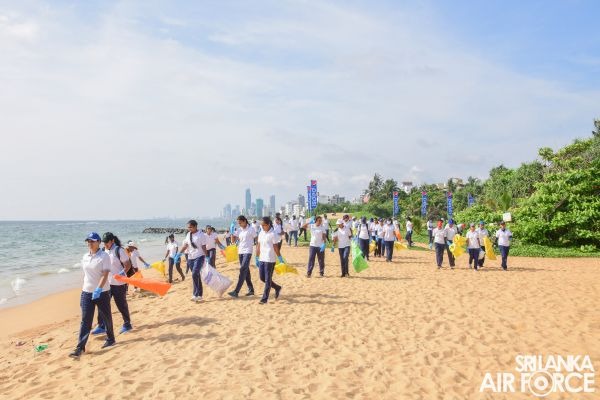 BEACH CLEANUP BY THE SLAF WOMEN'S WING
9:06pm on Friday 24th March 2023
The Women's Wing of the Sri Lanka Air Force organized a beach cleanup launched today (24 March 2023) at Mount Lavinia Beach with the solemn approval of the Commander of the Air Force, Air Marshal Sudarshana Pathirana, and under the supervision of the Commanding Officer of the SLAF Women's Wing and Deputy Director of Administration, Air Commodore Manoaj Kappetipola. The primary objective of the event was to maintain the natural beauty and cleanliness of the coastline.

The half-day beach cleanup activity commenced at Mount Lavinia and continued along the shoreline up to Dehiwala Beach. Lady Officers and Airwomen of the Women's Wing actively participated in the eco-friendly initiative with great enthusiasm. The event was sponsored by notable environmental communities, including "Wana Arana", "Lassana Werala," and "Pepsi, which served as the title sponsor.
The successful execution of this event highlights the commitment of the Women's Wing of the Sri Lanka Air Force towards environmental conservation and sustainable practices.