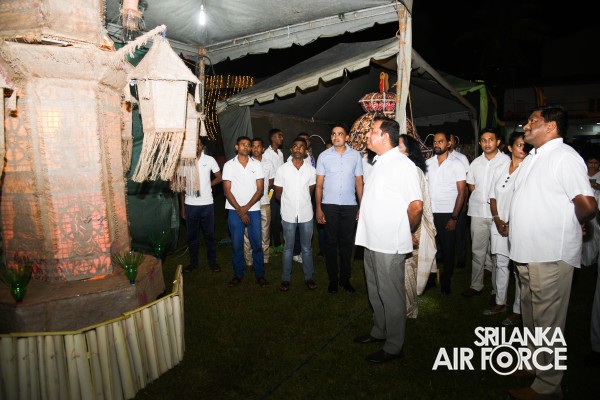 SLAF establishments celebrated Vesak in 2023 ensuring environmental sustainability and promoting religious and cultural unity
9:04pm on Saturday 6th May 2023
The Sri Lanka Air Force (SLAF) establishments across the country engaged in celebrating Vesak on the 5th and 6th of May 2023 by paying homage to Buddha in various ways. The celebrations included the performance of Amisa Poojas at their respective premises. Vesak is an important Buddhist festival celebrated in Sri Lanka to commemorate the birth, enlightenment, and attainment to the nibbana of Buddha.

The SLAF establishments went an extra mile in their celebration by displaying Wesak Lanterns made from discarded items in an eco-friendly manner. The lanterns were not only beautiful but also promoted environmental sustainability by encouraging the reuse of waste materials. This was a testament to the SLAF's commitment to promoting environmental conservation and sustainability.

The Amisa Poojas performed by the SLAF establishments were a unique blend of traditional and modern practices. The poojas included Dhamma preaching programs and offerings of alms. The SLAF personnel participated in these meritorious deeds with great devotion, reflecting the Buddhist values of peace, compassion, and selflessness.

The celebrations were not only limited to promote spiritual wellbeing of SLAF personnel, but also to the general public. The SLAF establishments welcomed the public to participate in the celebrations and pay homage to Buddha. The festive atmosphere was enhanced by the beautiful decorations and the peaceful ambiance created by SLAF establishments.
SLAF Station Iranamadu
SLAF Station Morawewa
SLAF Station Sigiriya
SLAF RTS Vanni
SLAF Station Weerawila