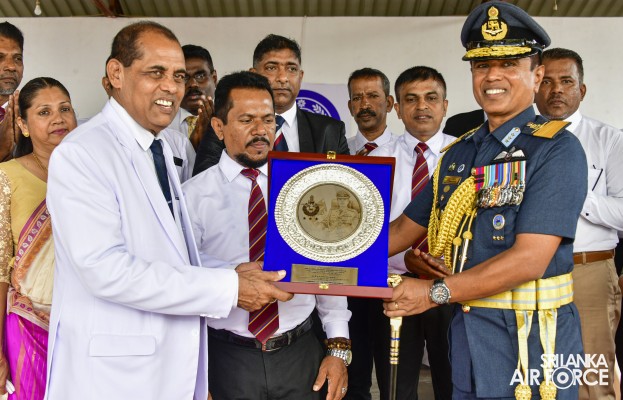 PARAKRAMA MAHA VIDYALAYA FELICITATES THE SLAF COMMANDER
10:20pm on Tuesday 5th September 2023
In a ceremony that exuded pride, tradition and honour, Parakrama Maha Vidyalaya, Gampaha, paid a profound tribute to one of its illustrious alumni, Air Marshal Udeni Rajapaksa, who was recently appointed as the 19th Commander of the Air Force. The special assembly, held at the college premises yesterday (04 September 2023), displayed a magnificent pageantry, with current students and staff members celebrating the remarkable achievement of Air Marshal Rajapaksa.
The Parakrama Maha Vidyalaya tradition of recognizing exceptional individuals who have achieved the highest degree of recognition and accomplishment in society was honoured with this event.
Speaking at the ceremony, the present Principal of Parakrama Maha Vidyalaya, expressed his immense pride and admiration for Air Marshal Udeni Rajapaksa, highlighting his exceptional achievements in academics, sports and extracurricular activities during his time at the school. The Principal emphasized that Air Marshal Rajapaksa's growth to the highest position in the Air Force is a proof to the quality education and values instilled by Parakrama Maha Vidyalaya.
In his address to the gathered students, Air Marshal Rajapaksa humbly acknowledged that his success was a direct result of the strong foundation laid at his beloved alma mater, Parakrama Maha Vidyalaya. He expressed gratitude for the education and guidance he received during his formative years, attributing his remarkable career accomplishments to the values and teachings imparted by the college.
The Commander also took a moment to fondly remember and pay tribute to all the teachers who had served during his time at Parakrama Maha Vidyalaya, acknowledging their crucial role in shaping him into the leader he has become. The event concluded with a profound felicitation of Air Marshal Rajapaksa, with students and staff standing united in celebrating the remarkable achievements of one of their own.