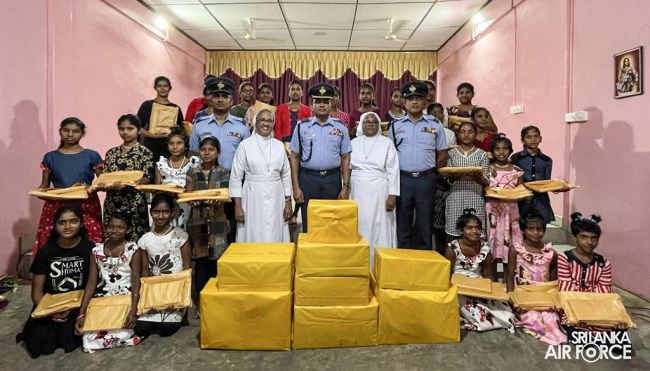 SLAF STATION IRANAMADU CONDUCTS SPECIAL COMMUNITY SERVICE PROJECTS
5:17pm on Monday 11th September 2023
SLAF Station Iranamadu executed a series of Special Community Service initiatives yesterday (10 September 2023) with the primary objectives of enhancing educational standards among local children, promoting civil-military cooperation and fostering social harmony within the surrounding village communities.

These initiatives encompassed the distribution of essential supplies, including school attire, stationery items, and sanitary goods, to the Triest Girls' Hostel located in Ramanathapuram. This noble endeavour was carried out under the diligent supervision of Group Captain Sulochana Marapperuma, the Commanding Officer of SLAF Station Iranamadu, and was made possible through the generous sponsorship of Miss Sithy Sarah Assan. The coordination and execution of these efforts were expertly managed by Wing Commander Mahesh Gooneratne.

The culmination of this meaningful day of community service featured a friendly cricket tournament held at the Vaddakkachchi School Ground. The event was shouldered as a platform for active participation from both service personnel and the local villagers, aiming to strengthen civil-military collaboration and promote social cohesion among the neighbouring communities.