SLAF History : Of Men and Material

Not having had the support of a volunteer force, or trained manpower amongst the Ceylonese, Group Captain Bladon had to rely on RAF personnel to fill his requirements of Senior Staff Officers. Among the first Ceylonese to be recruited as Officers were Sqn Ldr E. Rohan Amarasekera D.F.C. (Air Staff Officer), Flt Lt R.B.D. Jansen (Engineering Officer), Flt Lt Ken Nagarajah (Equipment Officer), Flt Lt Wijendran (Secretarial Officer), Flt Lt P.G. Walpita (Education Officer) and F/O S.N. Samarasinghe (Secretarial Officer). Thus he obtained approval from the Ministry of Defence to appoint Wing Commander A.E. Dale as Senior Air Staff Officer, Flt Lt A.F. Hindell as Senior Technical Staff Officer, Flt Lt Chignal as Senior Equipment Staff Officer, Flt Lt H.A.D. Ranasinghe as Chief Signals Officer and Flt Lt Renshaw as Senior Officer in Charge of Administration. Wg Cdr Dale, himself a pilot, was also designated as Chief of Staff, and deputised for the Commander in his absence.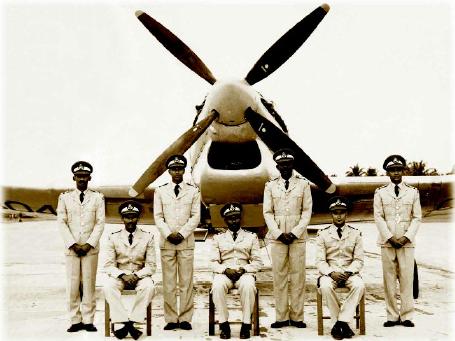 On 8th August 1951, 1004 AC2(Cadet) D. De S. Seneviratne and 1005 AC2(Cadet) Paddy Mendis were recruited to the RCyAF and were sent to RAF College, Cranwell.
When at last training got underway at Katunayake, the first batch of Officer Cadets were Ivor De Abrew, L.B. Tissa (who lost his life in a flying accident over Katugastota), R. Varatharasa (also killed in an accident, flying a Dove aircraft out of China Bay), C. Chelvarajan (who crashed in a Balliol aircraft at Katunayake, losing his life), Mike Phoebus, D. Nicolle, Dick C. Perera, R. Vivekananthan, Harry Goonetileke and Jayasena.
The second batch of graduates from the ranks of local trainees included Flight Cadets A. Walter Fernando, L.W.A. Christiansz, E. Deryck Pereira, Johnpulle (who later transferred to ATC), T. Saldin, Milroy De Soyza, L. Perera, R. Perera and Noel Anandappa. When in 1952, King George VI passed away, the RCyAF was represented at the funeral in London by a contingent led by Flt Lt Ken Nagarajah. The others in the contingent were Flt Cdts, C.E.V. De Silva, P.H. Mendis and D. De S. Seneviratne. Together with the contingents from the Ceylon Army and the Royal Ceylon Navy, the RCyAF contingent took part in the funeral march from Buckingham Palace to Paddington Station, from where the remains of His Majesty were taken to Sandringham for interment.
In 1953, the RCyAF sent a contingent of men to participate at the Coronation of Queen Elizabeth II, in U.K led by Flt Lt Wijendran. The others included, Sgt H.G.A. Jayawardena, Cpl Elroy Seneviratne, Cpl H.A.S. Mendis, Cpl Thaw Khalid, C. Randall, O.H. Maye, G.A. Jaksa, Dudley Oorlorff, Elmo Alles, G.K. Punnyadasa, Ebert and Camillus Silva. Six of these stayed back after the Coronation, to represent Ceylon at the Royal Tournament at Earls Court, London. The six were - H.G.A. Jayawardena, Elroy Seneviratne, Elmo Alles, Dudley Oorlorff, G.K. Punnyadasa and O.H. Maye.
The Air Force began recruiting other grades and other disciplines as well. Aircraft apprentices were sought. As in the case of Officer Cadets, batches of apprentices were sent to the UK, to be trained at the RAF's School of Technical Training at Halton. When the RCyAF was formed in 1951, a priority requirement was to train local lads as Aircraft technicians. Young Ceylonese boys, between the ages of sixteen and seventeen and a half, were recruited as Aircraft apprentices. The first batch of ten was sent to England less than two months after the Air Force was formed, and thereafter, further batches followed, every four months. The primary institution was the No. 1 School of Technical Training, RAF, Halton for aircraft trades, and RAF, Cranwell, for Radio and Ground Radar courses. Later administrative apprentices were sent to RAF, Hereford
The distinction of being the first Ceylonese apprentice, went to Douglas Abeysekera, a boy from Holy Cross College, Kalutara, who later retired as a Squadron Leader. The last of the apprentices, Cyril Siriwardena, also retired as a Squadron Leader, a few years ago.The first two Ceylonese pilots at Cranwell, Paddy Mendis and Sene Seneviratne graduated on 6th April 1954. The first batch of Cadets to be trained at Katunayake also passed out in 1954 (a full three years after they joined up - a delay occasioned by the late arrival of the Balliols).