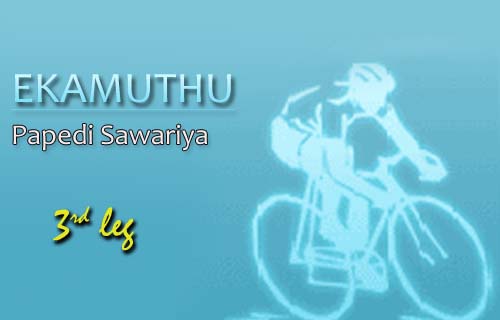 Airman Jeewan Dominates the 3rd Leg of Ekamuthu Papedi Sawariya
11:38am on Sunday 21st March 2010
Jeewan Jayasinghe of the Sri Lanka Air Force Team ' A' dominated the entire 3rd leg of the Ekamuthu Papedi Sawariya yesterday (20 March 2010) which was organized by the "Tharunyayata Hetak".
Yesterday the cyclist rode a distance of over 117 Km from Kalutara to Matara. The star of the day Jeewan Jayasinghe was in command of the race from start to finish and was able to win the two sprint events at Seenigama and Koggala. And also clinched the 1st place of the 3rd leg.
Today (21 March 2010) the champion riders will have to ride from Matara to Thissamaharamaya (120 Km) which is the 4th and final leg of the race.
Sprint – Seenigama
Jeewan Jayasinghe Air Force "A" Team
Sprint – Koggala
Jeewan Jayasinghe Air Force "A" Team
3rd Leg winners
1st Jeewan jayasinghe Air Force "A" Team
2nd Asela Sisira Kumara Army "A" Team
3rd Sanath Jayasinghe Army "C" Team