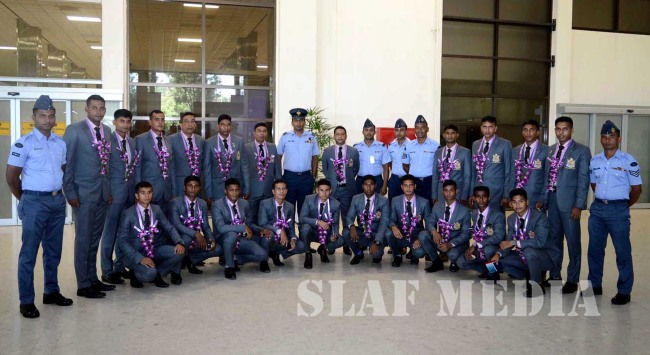 Bangladesh Air Force Soccer Team Visits to Sri Lanka for the First Time
7:16pm on Saturday 7th July 2018
A 21 member Soccer Team from Bangladesh Air Force arrived at BIA today (07 July 2018) to participate in a friendly Soccer Tournament with their SLAF counterparts under the Sports Exchange Programme. The team will remain in Sri Lanka till 13 July 2018 during which period three soccer matches and country tours have been arranged.

The team comprising the Manager, Squadron Leader SM Shamim Reza and 20 others were garlanded and warmly welcomed by the officials of SLAF Soccer Committee on their arrival at BIA.

This is the first time that a Bangladesh Team visited Sri Lanka for a Soccer Tournament between counterparts in blue. The visit is a testament to the genial relationship between the BAF and the SLAF as well as the two nations.