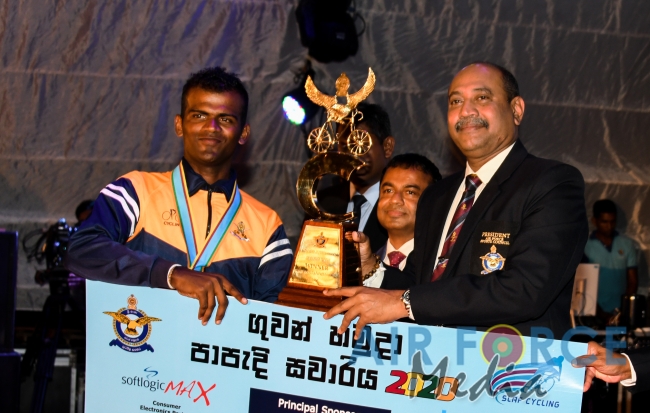 SL Army Wins '21st Guwan Hamuda Papedi Sawariya'
8:22pm on Saturday 7th March 2020
The 21st consecutive "Guwan Hamuda Papedi Sawariya" was concluded this evening (7 March 2020) at the Public Grounds in Anuradhapura. The Men's Race was held from 5th to 7th March 2020 in 3 stages while the Women's Race was held today from Puttalam to Anuradhapura covering a distance of 110 km. Cyclists from all around the country as well as from other countries participated in this race covering a total distance of 449 km for the men.


Thushan Rajapaksa from the SL Army emerged as the Overall Men's Champion while Udeshani Niranjani also from the SL Army emerged as Overall Women's Champion. Adding to the tally of wins by the SL Army, both Men's and Women's Teams from the Army were able to secure the Team Championships as well.

The presentation ceremony was held at Public Grounds at Anuradhapura with the Commander of the Air Force, Air Marshal Sumangala Dias gracing the ceremony as the Chief Guest. The Chief of Staff, Members of the Air Force Board of Management, Secretary of SLAF Cycling, Air Commodore Kithsiri Leelaratne, as well as Senior Officers of the SLAF, Officers and other ranks representatives from the media sponsor and co-sponsors were also present at the award ceremony.

Men's Race
Men's Team Champion - Sri Lanka Army Men's Team
Overall Men's Champion – Thushan Rajapaksa - Sri Lanka Army
Overall Men's 2nd Place – Awishka Dilnuwan Madonsa - Sri Lanka Army
Overall Men's 3rd Place – Darshana Prasad - Super Wheelers Club
King of the Mountain – Pathum Sampath – Sri Lanka Army
Sprint Champion - Awishka Dilnuwan Madonsa - Sri Lanka Army
Women's Race
Women's team Champion - Sri Lanka Army Women's Team
Overall Women's Champion – Udeshini Kumarasinghe – Sri Lanka Army
Overall Women's 2nd Place – Madumali Fernando – Sri Lanka Army
Overall Women's 3rd Place – Niluka Shamali – Civil Security Department
Men's Race

Women's Race

Awards Ceremony