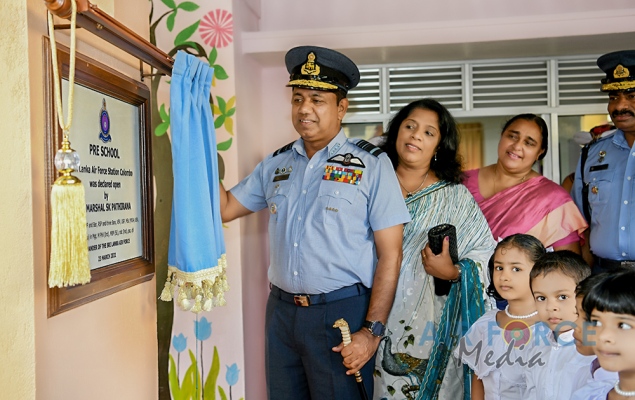 NEWLY RENOVATED PRE-SCHOOL, DAY CARE CENTRE AND AIR SCOUTS NEST DECLARED OPEN BY THE COMMANDER
3:36pm on Tuesday 23rd March 2021
The Commander of the Sri Lanka Air Force, Air Marshal Sudarshana Pathirana declared open the newly renovated Pre-School, Day Care Centre and Air Scouts Nest today (23 March 2021) at Sri Lanka Air Force Station Colombo. The Chairperson of the SLAF Seva Vanitha Unit, Mrs. Charmini Pathirana also participated for the opening ceremonies along with the Commander. The Commander was warmly received by the Commanding Officer of SLAF Station Colombo, Air Vice Marshal AJ Amarasinghe on his arrival.

The Pre-School and Day Care Centre was re-established at a new location in order to provide spacious educational space and a secured shelter for kids of Pre-School and Day Care Centre. The new location formerly occupied for various other activities was modified, renovated and refurbished to the original concept of the Chairperson Seva Vanitha Unit by the Directorate of Civil Engineering through Air Field Construction Wing at SLAF Base Ratmalana, under the direct supervision of design officers of the Directorate of Civil Engineering.

A construction team of 60 personnel was led by Squadron Leader Oshan Maginarachchi, Project Engineer during an accelerated construction period of 6 weeks. The construction team attended the opening ceremony and the Commander thanked and complemented them for the remarkable achievement. The Officer in Charge of the SLAF Pre-School at Colombo, Wing Commander HMAP Wijayanayake and the Officer in Charge of the Day Care Centre, Flight Lieutenant NGRK Naullage were present along with their staff members.
The Commander was welcomed to the newly renovated Air Scouts Nest by the Chairman, Air Force Air Scouts, Group Captain Paminda Jayawardhana, Deputy Chairman Group Captain Sujeeva Ponnamperuma and Secretary of Air Force Air Scouts, Wing Commander Rajeev Pagoda. Additionally, Scout Masters, Senior Scouts, Rover Scouts and Junior Scouts attached to Air Scout Group Colombo, were also present. The Commander was accorded a guard turn out by Senior Air Scouts and a street line by Junior Air Scouts. The Commander also paid tribute to the Late Lieutenant General Baden Powell, the founder of the World Scout Movement and unveiled the newly constructed Air Scouts Emblem. Finally, the Commander cut the ceremonial ribbon and officially declared open the newly renovated Air Scouts Nest after which, he placed his signature in the troop logbook as well.
The event was attended by Members of the Air Force Board of Management along with their ladies, a cross section of Senior Officers, Officers and Other Ranks from SLAF Station Colombo along with staff members of the Pre-School and the Day Care Centre.