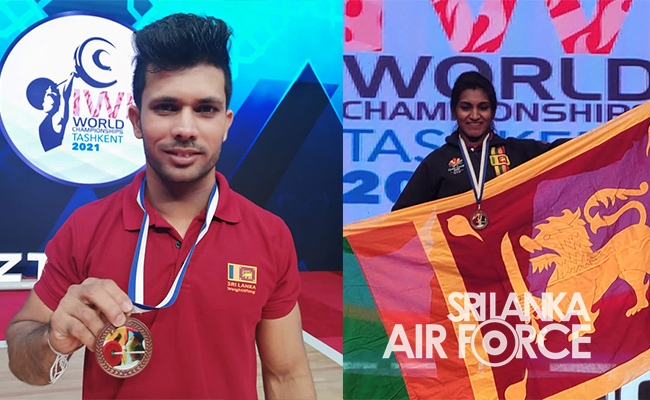 SLAF WEIGHTLIFTERS CLINCH BRONZE AT COMMONWEALTH WEIGHTLIFTING CHAMPIONSHIPS 2021
9:25am on Tuesday 14th December 2021
Two (02) SLAF weightlifters have secured two bronze medals at the Commonwealth Weightlifting Championships 2021 held in Tashkent, Uzbekistan, on 09th and 11th December 2021.

Leading Aircraftman Manoj Wijesinghe competed in the men's 67kg weight category and successfully lifted 141kg in Clean and Jerk, 113kg in Snatch, with a total of 254kg secured a bronze medal. Meanwhile, SLAF female weightlifter Leading Aircraftwoman Nadeeshani Rajapakse competed in the women's 59kg weight category secured a bronze medal, after successful triumph of lifting 90kg in Clean and Jerk, 74kg in Snatch, with a total of 164kg.

The Commonwealth Weightlifting Championships 2021 is currently being held concurrently in Tashkent along with International Weightlifting Federation (IWF) World Championships 2021 from 7th to 17th December 2021. A 20-member contingent of weightlifters was selected by the Sri Lanka Weightlifting Federation (SLWF) in preparation for the Commonwealth Championships and IWF World Championships.