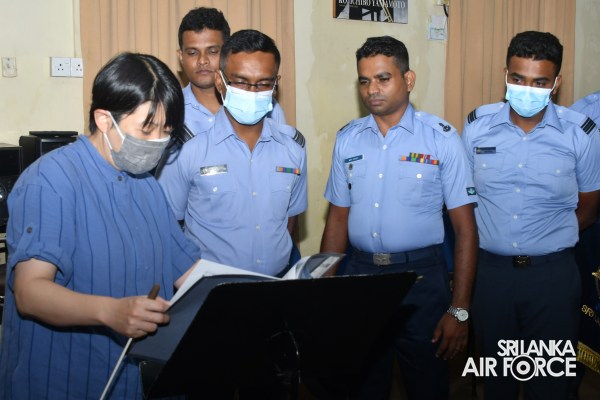 A WORKSHOP FOR SLAF MUSICIANS
5:10pm on Wednesday 7th September 2022
A Japanese Orchestra Conductor Miss Keiko Kobayashi led a one-day workshop for the musicians of the SLAF Ceremonial Band at the Directorate of Performing Arts, SLAF Base Katunayake yesterday (06 September 2022).

Miss Kobayashi, a well-known Japanese Orchestra Conductor had previously voyaged to Sri Lanka to perform at the annual concert with the Colombo Wing Orchestra at the Lionelwent Theatre Colombo. She was received by the Director Performing Arts, Group Captain HWR Chandima and the session was conducted under the leadership of Officer Commanding SLAF Ceremonial Band, Squadron Leader GV Joseph.

25 SLAF musicians and 5 officers participated in a productive session which enhanced overall performance abilities in the Sri Lanka Air Force Ceremonial Band. Moreover, engaging in this workshop hosted by this well-known orchestra conductor, the session's participants were able to acquire a plethora of knowledge and valuable exposure.

The Director Performing Arts awarded a token of appreciation to honour Ms. Keiko Kobayashi's visit to the Directorate of Performing Arts at SLAF Base Katunayake.