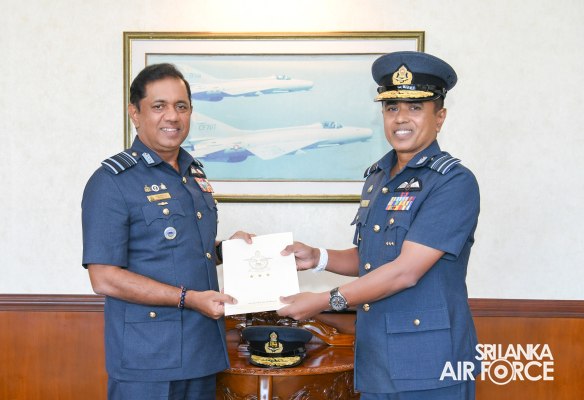 NEW CHIEF OF STAFF OF THE SRI LANKA AIR FORCE APPOINTED
4:00pm on Tuesday 13th September 2022
The President of the Democratic Socialist Republic of Sri Lanka Hon. Ranil Wickremesinghe, the Commander-in-Chief of Armed Forces granted approval to appoint Air Vice Marshal Udeni Rajapaksa as the Chief of Staff of the Sri Lanka Air Force, with effect from 12 September 2022.

Accordingly, Commander of the Air Force, Air Marshal Sudarshana Pathirana, officially handed over the letter of appointment to Air Vice Marshal Udeni Rajapaksa today.

Air Vice Marshal RAUP Rajapaksa RSP and two Bars, USP, MSc (MOA) USA, MSc (Def Stu) in Mgt, MA in IS&S (UK), BSc (Def Stu), MIM (SL), rcds, psc joined the Sri Lanka Air Force as an Officer Cadet in the General Duties Pilot Branch in 1988. Having undergone his Basic Combat Training at Kotelawala Defence Academy, Basic Flying Training at No. 1 Flying Training Wing, Sri Lanka Air Force Base Anuradhapura and having performed with distinction, he became the Best Flight Cadet in the 33rd Flight Cadets' course. He was commissioned as a Pilot Officer in the General Duties Pilots Branch in 1990 as a graduate of the Kotelawala Defence Academy, Ratmalana. Since then, in the capacity of operational scale, he took part in almost every major operation conducted during the terrorist conflict in the Island.

Air Vice Marshal Rajapaksa is a VVIP Captain Pilot and qualified in flying 10 types of aircraft; CESSNA–150, HARBIN Y-12, HS–748, SF–260TP, IA–58 PUCARA, B–200T, AN–32 and C–130. He has accumulated over 7000 flying hours to his credit in combat and transport flying and he holds the highest Instrument Rating "Master Green Rating" and holds a civil Air Transport Pilots License (ATPL). He had been serving as Directing Staff (Air) at Defence Services Command and Staff College, Batalanda from 2007 to 2009 before being appointed, as the Commanding Officer No. 02 Squadron, SLAF Base Ratmalana in 2010. Thereafter, he commanded SLAF Base Hingurakgoda from 2011 to 2012. Air Vice Marshal Rajapaksa attained a notable feat in his career when he was entrusted with the prestigious appointment of the Sri Lankan Defence Attaché to Sri Lanka Embassy in Russian Federation from 2012 to 2014. After completion of the tenure in Russia, he was appointed as Senior Air Staff Officer (SASO) from 21 April 2014 before being appointed as the Base Commander of Sri Lanka Air Force Base Vavuniya from 01 September 2015. Further, He was assigned as Air Secretary from 12 September 2016 to 23 August 2017 and from 07 August 2018 to 30 June 2019.

Air Vice Marshal Rajapaksa has also commanded SLAF Academy, China Bay as the Commandant in 2020 and was appointed as Eastern Air Commander. Then he embraced the responsibilities as the Base Commander SLAF Base Katunayake, Southern Air Commander and Overall Operations Commander (Air Defence) during his tenure at SLAF Base Katunayake in 2021. Gradually, he held the appointment of Director Air Operations at Air Force Headquarters before being appointed as the Chief of Staff of the SLAF today.

He executed a night ejection from Pucara aircraft in 1997, whilst on an operational bombing mission at night and he has been commended for the great achievement of handling a serious emergency situation whilst on a combat mission. He has also been recognized by the Martin Baker Aircraft Company Limited by offering him the membership of the world renounced "Ejection Tie Club".

He has followed a number of overseas training courses including Junior Command and Staff Course in Bangladesh, Flight Safety Officers Course in Pakistan and Advanced Security Cooperation Course in USA. Further, Air Vice Marshal Rajapaksa has also made many academic achievements by completing his Bachelor's Degree in Defence Studies and Master of Science in Defence Studies in Management from Sir John Kotelawala Defence University with a "Merit pass".

He has obtained Master of Science (Mil Op Art) by the Air University, Alabama in USA and further, MA in International Security and Strategy from King's College, London in UK too with a "Merit pass". He has attended a number of conferences and visits in Pakistan and Russia representing the SLAF.

He is a graduate of the Air Command and Staff College, Air University, Alabama, USA and a graduate of the Royal College of Defence Studies (rcds), UK in International Security and Strategic Leadership Studies. For his bravery he has been awarded with the Rana Sura Paddakkama three times

Air Vice Marshal Rajapaksa holds the appointment of Chairman of Sri Lanka Air Force Athletic Association and he has been awarded Sri Lanka Air Force Colours for Tennis in 2010 and he is the only SLAF Officer who has won Commander's Cup Eagles' Challenge trophy (in 2021). He has also been awarded SLAF Colours for Golf in 2021.