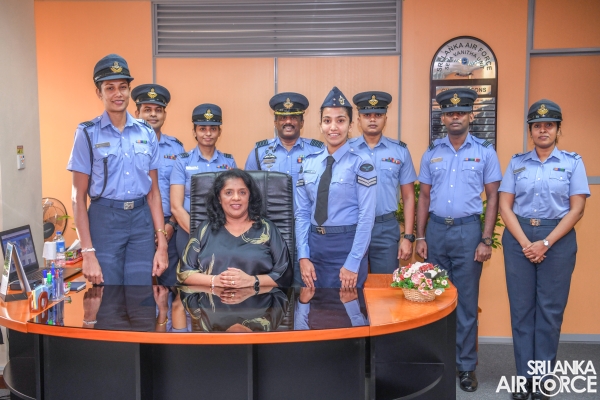 12th ASIAN NETBALL CHAMPIONS FELICITATTED BY THE SLAF SEVA VANITHA UNIT
3:30pm on Friday 16th September 2022
The SLAF Netball players who paved the way to clinch the Asian Championship title, Squadron Leader Chathurangi Jayasooriya and Corporal Rashmi Perera were felicitated by the Chairperson of SLAF Seva Vanitha Unit, Mrs Charmini Pathirana at Air Force Headquarters today (16 September 2022).

The Chairperson awarded a special appreciation to the two idols in recognition of their fruitful effort which brought much cheer to the Nation.

The Air Secretary Group Captain Anuruddha Wijesiriwardena, Secretary Seva Vanitha Unit, Wing Commander Suresh Fernando, Staff of the SLAF Seva Vanitha Unit participated for this occasion.