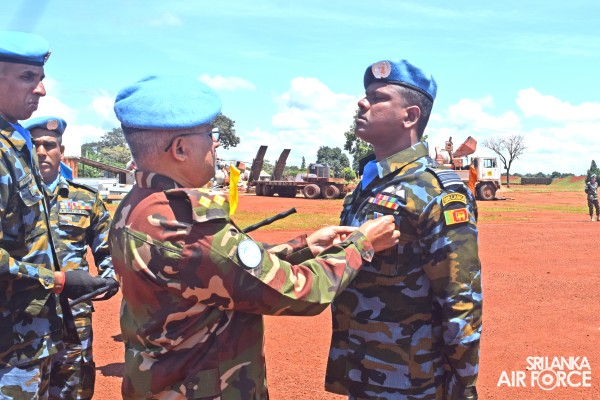 UNITED NATIONS PEACEKEEPERS MEDAL AWARDING PARADE CONCLUDES AT CENTRAL AFRICAN REPUBLIC
9:31am on Tuesday 27th September 2022
The prestigious United Nations Peacekeepers Medal Awarding Parade for Sri Lanka Air Force 7th Aviation Contingent deployed at Bria in Central African Republic was glamorously held on 21st September 2022. Brigadier General Syed Mohammad Shaheed Rahman, the Sector East Commander of the United Nations Mission in Central African Republic (MINUSCA), took the salute during the ceremony as the Chief Guest and reviewed the parade.

The Chief of Staff of Sri Lanka Air Force, Air Vice Marshal Udeni Rajapaksa, graced the occasion as the Guest of Honour. The Chief Aviation Officer in MINUSCA, Mr. Charles Roger Amoussou, Deputy Sector Commander Sector East, Colonel Ahmed Gomaa Mohamed, Military and Civilian UN Staff Officers in MINUSCA and other dignitaries were present at the ceremony.

The Chief Guest and Guest of Honor were received by the Contingent Commander, Wing Commander Priyanka Herath. Wing Commander Janaka Dodangoda commanded the parade, which was accompanied by a drill demonstration and a cultural performance with traditional "Kandyan" dancing, "Devil" dancing and drum percussion. The Chief Guest complimented Sri Lanka Aviation's crew members for their professionalism and sheer dedication and he praised them for their substantial role to the MINUSCA by displaying courage and valour in the face of extreme adversity.

20 Officers and 90 Other Ranks comprise the 7th Sri Lanka Air Force Contingent, which was deployed to MINUSCA on 29th November 2021. It has flown 1098 hours for Air Transport Operations, VIP flights, Medical Evacuations, Casualty Evacuations and Armed Missions over the span of the last nine months while transporting 2942 passengers and 265,257 kg of cargo.

Apart from the parade, the Chief of Staff of the SLAF, Air Vice Marshal Udeni Rajapaksa and the Staff Officer Foreign Missions of SLAF, Wing Commander Kanchana Kodikara made a Higher Level Supervision Visit from 19th to 25th September 2022 in order to conduct a comprehensive inspection on the aviation assets deployed and administrative functions to ensure the uninterrupted self-sustainment and operational readiness of the Sri Lankan Aviation contingent. On his arrival, he was received by Wing Commander Priyanka Herath, the Contingent Commander Sri Aviation Unit.

During the short spell of stay at Bria, a welfare conference was convened to allow all ranks to express their concerns and suggestions to the Chief of Staff and a social interaction session was organized during the evening. The Chief of Staff visited Sector East Head Quarters, Bria and paid a courtesy call to Sector East Commander. Then Chief of Staff paid a courtesy call to the Force Commander of MINUSCA Lieutenant General Daniel Sidiki Traore on 23rd September 2022 at United Nations Force Head Quarters, Bangui. The visit was concluded on 25th September 2022 on a successful note.

Medal Awarding Parade
Higher Level Supervision Visit
Chief of Staff paid a courtesy call to the Force Commander of MINUSCA Lieutenant General Daniel Sidiki Traore