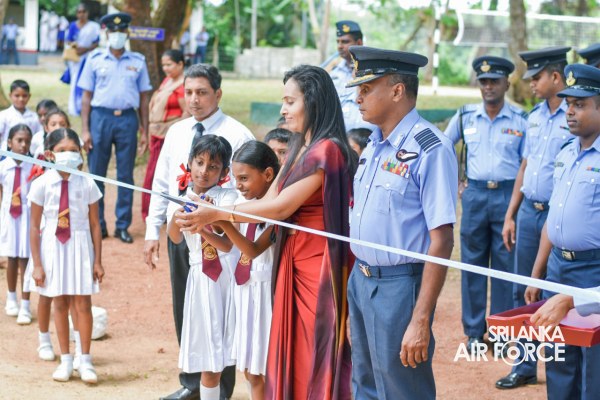 44TH PHASE OF GUWAN MITHUDAM PROJECT CONCLUDES AT KATUKURUNDA
4:51pm on Friday 7th October 2022
The 44thphase of "Guwan Mithudam" project was successfully completed at Ethanamadala Junior School, Kalutara North on 05 October 2022 by the SLAF Station Katukurunda under the guidance of the Chairperson SLAF Seva Vanitha Unit, Mrs Charmini Pathirana.

Newly constructed school perimeter fence, children's park and volleyball court were handed over to the children of Ethanamadala Junior School by the Commanding Officer SLAF Station Katukurunda, Group Captain Asitha Hettiarachchi. The renovation and colour washing of all the classrooms including the school 'Budu Medura' were completed under the supervision of the Commanding Officer. The Stationery and paint items were also donated to the children to complete their art works in several class rooms by SLAF Station Katukurunda.

This Project was funded by the SLAF Seva Vanitha Unit together with SLAF Station Katukurunda. President Seva Vanitha Unit at SLAF Station Katukurunda, Mrs. Jayamini Kumarasinghe, a cross section of officers and other ranks at the Station, Principal, Teachers, Students and Parents of the school attended for the occasion.