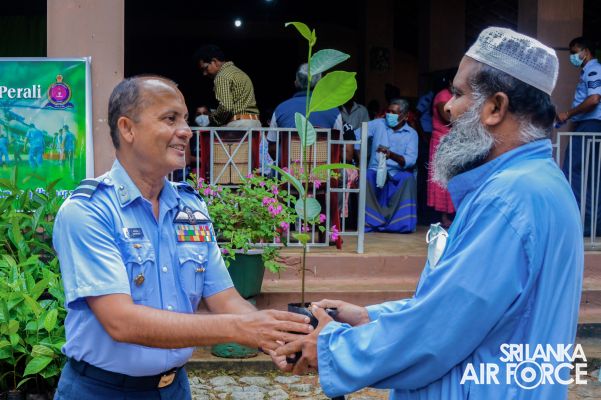 SLAF BASE ANURADHAPURA CELEBRATES 40TH ANNIVERSARY
7:45am on Thursday 10th November 2022
SLAF Base Anuradhapura celebrated its 40th anniversary yesterday (09 November 2022). A series of events and community projects were conducted incline to the anniversary celebration under the guidance of the Base Commander SLAF Base Anuradhapura, Air Commodore Amitha Jayamaha together with all officers, other ranks and the civilian staff.
The celebration commenced with the customary working parade which was reviewed by Base Commander. Subsequently, a Netball and Elle tournaments were held at base playground and day's proceedings were concluded with all ranks lunch.

In line to the celebration, Operation Theater Buildings of Teaching Hospital Anuradhapura were colour washed on 06 November 2022. Further, "Jack Saplings" planting programme at Kawarakkulama Temple and Shramadana Campaign at Alagollawa Church premises were conducted on 08 November 2022. Moreover, a blood donation campaign, eye screening programme, medical and dental clinics, "Jack saplings" planting and distribution events were conducted for the benefit of Alagollewa villagers and the surrounding communities on 9th November 2022 at Alagollewa.

During the eye screening programme, hundred and fifty pairs of Reading glasses were donated for those in need with the compliments and coordination of the Chairperson SLAF Seva Vanitha Unit.