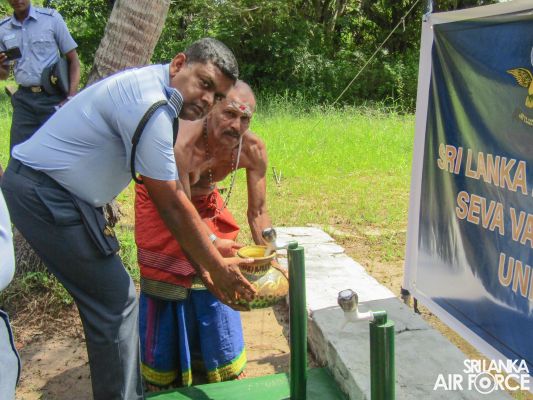 45TH PHASE OF GUWAN MITHUDAM PROJECT CONCLUDES AT MANATHIVU KOVIL
2:05pm on Saturday 12th November 2022
The 45th phase of "Guwan Mithudam'' project was successfully completed at the 'Manathivu Siththirei Velayuna Swami Kovil' yesterday (11 November 2022) by SLAF Station Batticaloa under the guidance of the Chairperson SLAF Seva Vanitha Unit, Mrs. Charmini Pathirana.

Manathivu Kovil locates in an island surrounded with a lagoon. During this project a purification plant was installed in view of addressing the much felt need of purified drinking water for the consumption of residents in Manathivu and handed over by the Acting Commanding Officer, Wing Commander Chandana Munasinghe.

This project was funded by the Seva Vanitha Unit together with SLAF Station Batticaloa. The event was attended by a cross section of officers and other ranks of the Station and villagers.