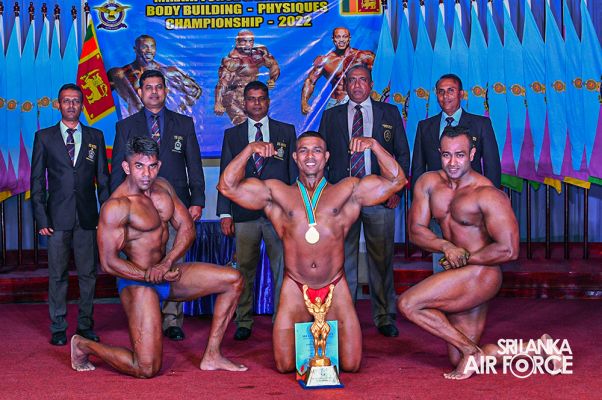 INTER UNIT BODYBUILDING AND PHYSIQUES CHAMPIONSHIP - 2022
10:39am on Friday 25th November 2022
The Inter Unit Bodybuilding and Physiques Championship 2022 was concluded yesterday (24 November 2022) at SLAF Trade Training School Ekala.

The Men's Championship was won by the SLAF Station Colombo whilst SLAF Trade Training School Ekala emerged as Runners Up.

Since the inception of SLAF Bodybuilding in 2009, SLAF Bodybuilding has conducted its Inter Unit Bodybuilding competition under three weight categories (65Kg, Over 65 Kg and Over 75 Kg). As a new addition, the Sri Lanka Bodybuilding and Fitness Federation (SLBB & FF) has duly introduced a new contest, 'Men's Physiques' which is approved by the International Federation of Bodybuilding (IFBB). SLAF Sports Council also included and implemented Men's Physiques as a new category in Bodybuilding contest.

The Director Welfare, Air Vice Marshal KGDN Jayasinghe graced the Awarding Ceremony as the Chief Guest. Chairman SLAF Bodybuilding, Air Commodore Senaka Fernandopulle, members of the Air Force Sports Council and other invitees participated to witness the final session.

SUMMARY OF THE RESULTS
BODYBUILDING
- 65 Kg Class (below)
First place - Corporal MadushankaWGE (SLAF Station Koggala)
Second place - Corporal Thennakoon SD (SLAF Trade Training School Ekala)
Third place - Sergeant Jayawickrama TTAN (SLAF Station Colombo)

- 75 Kg Class (below)
First place - Leading Aircraftman Jayalath MMRN (SLAF Station Colombo)
Second place - Leading Aircraftman Niyojithan P (SLAF Base Ratmalana)
Third place - Leading Aircraftman Jayasinghe SGSRK (SLAF Combat Training School Diyatalawa)

+ 75 Kg Class (over)
First place - Leading Aircraftman Priyankara RMS (SLAF Trade Training School Ekala)
Second place - Leading Aircraftman Mihiranga RMA (SLAF Station Colombo)
Third place - Leading Aircraftman Gunasekara RRDT(SLAF Station Morawewa)


PHYSIQUE
Open Men's Physique- 2022
First place – Leading Aircraftman Jayalath MMRN (SLAF Station Colombo)
Second place – Sergeant Jayawickrama TTAN (SLAF Station Colombo)
Third place – Flying Officer BH Jayakody (SLAF Academy China Bay)

Mr. Air Force: Leading Aircraftman Chaminda Peries WM (SLAF Station Bandaranaike International Airport)