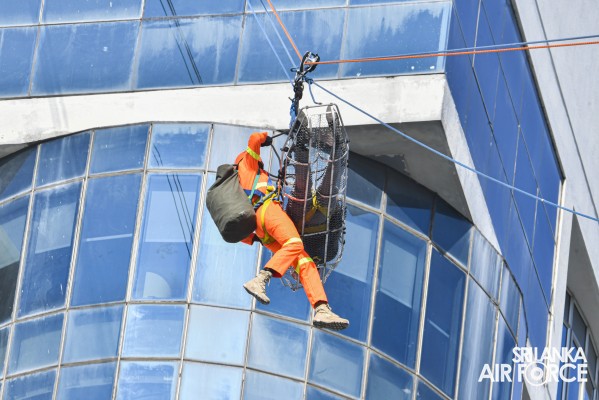 SLAF CONDUCTS A FIRE AND RESCUE DRILL AT AIR FORCE HEADQUARTERS
4:05pm on Thursday 15th December 2022
The Fire and Rescue service of SLAF has conducted a fire and rescue drill at the Air Force Headquarters building, today (15 December 2022) after a period of Eight (08) years.

46 SLAF Firefighters and other stakeholding elements have participated in the firefighting and rescue exercise with the supervision of SLAF Chief Fire Officer, Group Captain WKASW Vithana and Exercise Commander, Squadron Leader KJM Ranasinghe.

The SLAF Firefighters demonstrated the rescue tactics consisting of rope rappelling which portrayed the operational readiness, firefighting and Hazardous materials (Hazmat) response capabilities. And also the mock operation was carried out to check and increase the operational efficiency of the respective involving stakeholding elements and aware the staff at Air Force Headquarters react swiftly and competently during the such occurrence.

Commander of the Air Force, Air Marshal Sudarshana Pathirana, Chief of Staff and members of the Air Force Board of Management also attended to look over the hypothetical situation which had been activated on the 07th Floor at Air Force Headquarters.