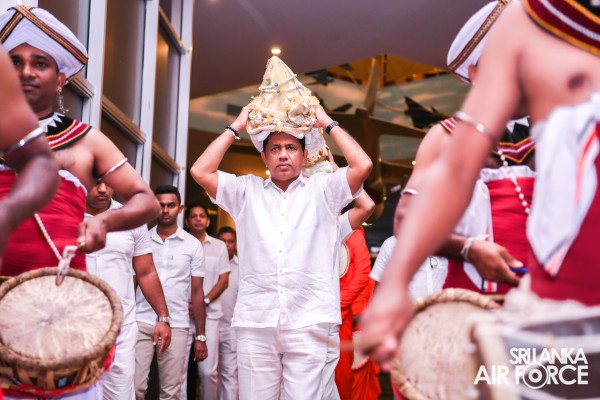 SLAF HAILS NEW YEAR WITH THE BLESSING OF ALL NIGHT PIRITH CHANTING
10:52pm on Tuesday 3rd January 2023
Under the guidance and directives of the Commander of the Air Force, Air Marshal Sudarshana Pathirana the third iteration of the main Pirith Chanting Ceremony was held at Air Force Headquarters yesterday (02 January 2023) to invoke blessings on all personnel of the Air Force and their families, fallen air warriors and the entire nation with its turn to the new calendar year.

Prior to the commencement of the ceremony, the 'Reliquary' (Karaduwa) was brought to Air Force Headquarters in a colourful procession and was placed in the 'Pirith Mandapaya' by the Commander of the Air Force.

Subsequently, almsgiving was accorded to the Venerable Maha Sangha this morning (03 January 2023) with the participation of Venerable Dr. Kirinde Assaji Thero, the Deputy Incumbent of the Gangaramaya Temple in Colombo.

The Chief of Staff of the Air Force, Deputy Chief of Staff, members of the Air Force Board of Management, Commanding Officer SLAF Station Colombo, Senior Officers, All Ranks and Civilian Employees of the SLAF participated in the all-night Pirith Chanting Ceremony as well as the Almsgiving.
Pirith Chanting

Almsgiving