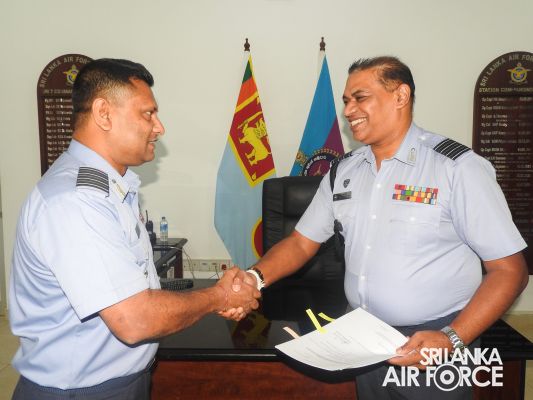 CHANGE OF COMMAND OF SLAF STATION PALALY
12:30pm on Saturday 14th January 2023
The Change of Command at SLAF Station Palaly held on 12 January 2023 and traditional handing over/ taking over parade took place at the Station parade square. Group Captain MADMC Manathunga RWP, RSP, psc took over the command of Sri Lanka Air Force Station Palaly from Group Captain MPA Galappaththi RSP and Bar, USP.

Group Captain MADMC Manathunga previously held the appointment as Director Naval & Air Operations at Office of the Chief of Defence Staff before being appointed as the Commanding Officer.

The outgoing Commanding Officer, Group Captain MPA Galappaththi will take over the appointment of Staff Officer Ground Operation I at Air Force Headquarters Colombo.