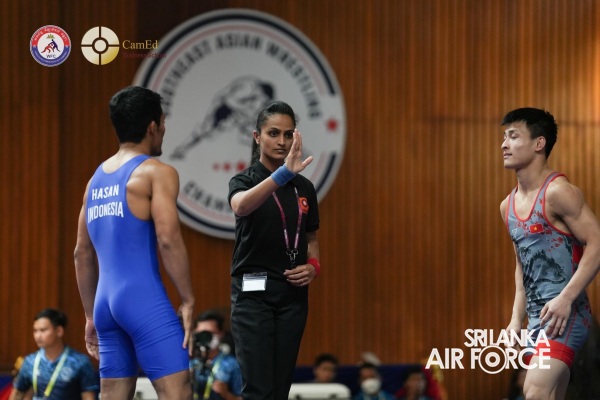 CORPORAL LAKSHIKA QUALIFIES AS THE INTERNATIONAL WRESTLING REFEREE LEVEL I OLYMPIC STYLE CATEGORY III
12:34pm on Saturday 14th January 2023
Corporal Lakshika AP enlisted to the Sri Lanka Air Force on 12 November 2012 as a Ground Stewardess and has completed 10 years of service. She was selected to the SLAF Women's Wrestling Team in 2016 and has won several gold medals in her weight class. She was a member of the SLAF Women's Wrestling Team in 2019 and was chosen for the National Women's Wrestling Pool in 2016 and 2017.

Subsequently, she followed a National Referee and Judge Course in Sri Lanka and was selected to participate in the International Wrestling Referee Level I Olympic Style Category III in Cambodia.

Corporal Lakshika AP is recognized as Sri Lanka's first female international wrestling referee.