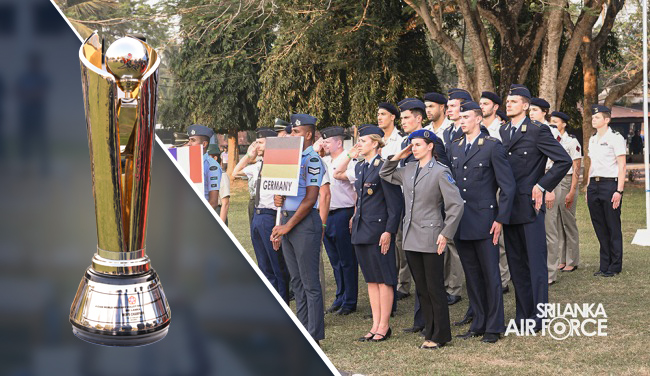 4TH CISM WORLD MILITARY BEACH VOLLEYBALL CHAMPIONSHIP 2023 CEREMONIALLY COMMENCES AT SRI LANKA AIR FORCE BASE KATUNAYAKE
7:56pm on Sunday 12th February 2023
The 4th CISM World Military Beach Volleyball Championship 2023, where the world military members engage in sportsmanship, ceremonially commenced today (12 February 2023) at the Gymnasium premises in Sri Lanka Air Force Base Katunayake with the gracious presence of Deputy Chief of Staff of the Sri Lanka Air Force, Air Vice Marshal Roshan Biyanwila.
The 4th CISM World Military Games, which have drawn particular attention among the major sports events held globally, will feature a number of experienced players who have competed at the national and international level.
The Beach Volleyball Games will kick off tomorrow (13 February 2023) at Negombo Beach and last until 17 February 2023, with a total of 7 countries, men and women, representing armed forces internationally.
The ultimate goal of these games is to foster camaraderie among the world's military servicemen and women. It is a platform that serves to strengthen the bonds of friendship and harmony among the armed forces, in the arena of sports, and on the fields of friendly strife.
The 4th CISM World Military Beach Volleyball Championship 2023 is being hosted by the Sri Lanka Air Force with unwavering support from the Sri Lanka Army and Navy. The opening ceremony was attended by the Chairman Organizing Committee, Air Vice Marshal Nishantha Thilakesinghe, Base Commander SLAF Base Katunayake, Air Vice Marshal Lasitha Sumanaweera, Secretary General CISM, Captain Roberto Recchia from the Italian Navy, Secretary Organizing Committee, Group Captain Chrishantha Fernando, Secretary Air Force Sports Council, Group Captain Eranda Geeganage, senior officers in the armed services both local and foreign and sportsmen and women.