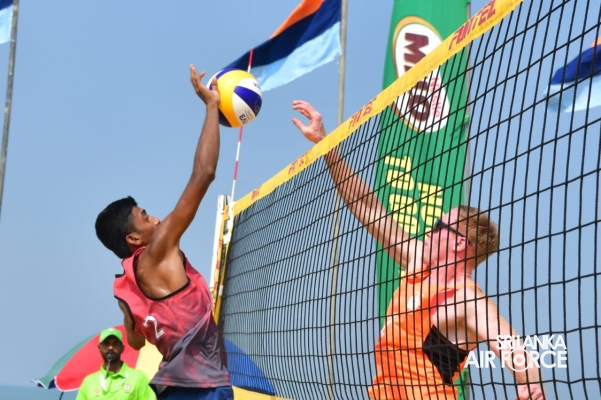 4TH CISM WORLD MILITARY BEACH VOLLEYBALL CHAMPIONSHIP 2023 STARTS OFF AT NEGOMBO BEACH
8:26pm on Monday 13th February 2023
The preliminary round matches of the 4th (CISM) world military beach volleyball championship 2023 was started off today (13 February 2023) at Negombo Beach.

Sportswomen representing the countries of France, Germany, Netherlands, Oman, Saudi Arabia, Colombia and Sri Lanka participated in the first round matches.

Each competition has an international technical jury comprised of members of participating nations. These individuals require detailed knowledge of Beach Volleyball rules and procedures.

The competition format was drafted based on the number of participating teams in accordance with Federation Internationale de Volleyball (FIVB) rules. The President of the CISM Volleyball Committee is allowed to change the sequence of games depending on the number of courts available, television broadcasting or other reasons that may impact the competition.

According to the league system, the championship is currently in session. Quarterfinals and semifinals will be played according to the knockout system, and the winning teams who have gone through the series in both men's and women's categories will move on to the grand finals on 17 February 2023.
1st Day

2nd Day
3rd Day