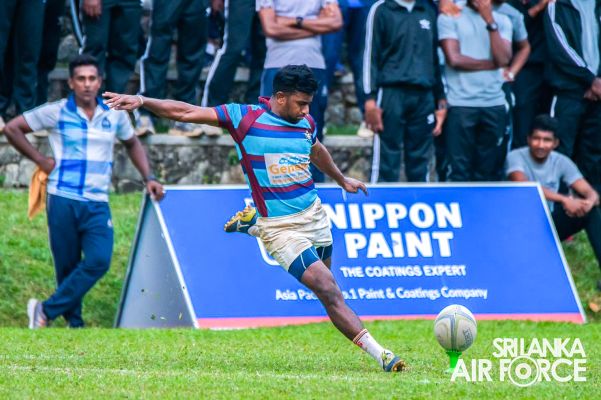 AIR FORCE SCRUM HALF NUWAN PERERA CLINCHES THE AWARD FOR THE HIGHEST POINT SCORER OF NIPPON PAINTS RUGBY LEAGUE 2022/23
12:10pm on Monday 20th February 2023
Leading Aircraftman Nuwan Perera's outstanding personal performance has added more value to the Air Force men's rugby team's achievement of the Plate Champions of the Nippon Paints Inter Club Rugby League 2022/23. The team scored a total of 261 points, out of which 115 points were scored individually by Nuwan Perera. His tally includes 02 tries, 24 conversions, 18 penalties, and 01 drop goal.

He is a well-known former Kingswood College Kandy 1st XV Rugby Team vice-captain in 2013, and was famous to play in the full back position. After joining Sri Lanka Air Force in year 2013 itself, Nuwan has developed himself to play in various positions on the field including Fly Half and Scrum Half. Also, his outstanding performance made him represent Sri Lanka wearing the proud Tuskers Jersey in 2013 in the Under 20 team, and in 2019 Sri Lanka 15s team, and in 2021 Sri Lanka 7s team which toured Dubai. Nuwan Perera was also the Captain of the Air Force 7s Rugby team which won the Warrior Cup 7s tournament in 2021, and the 15s Rugby team which won the Plate Runners Up trophy in 2022.

His experience in the game of Rugby both in the local and international arena has been vital for the team and his maturity on the field has been widely appreciated by many rugby experts.