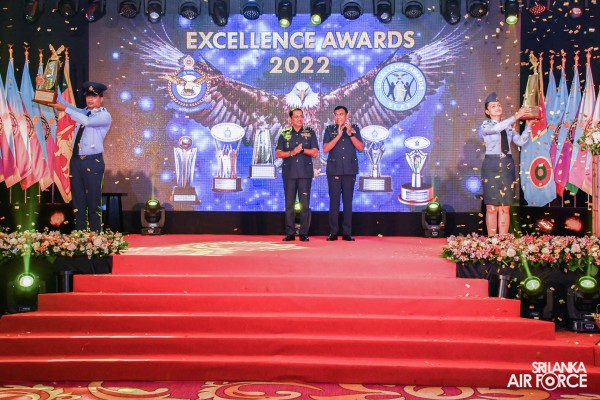 EXCELLENCE AWARDS 2022 FELICITATES THE BEST OF THE BEST
9:51pm on Wednesday 15th March 2023
The Sri Lanka Air Force Excellence Awards 2022 was held at the Eagles' Lagoon View Banquet Hall, Katunayake today (15 March 2023) under the patronage of the Commander of the Air Force, Air Marshal Sudarshana Pathirana. Outstanding performances of the Airmen and Airwomen within the Air Force were recognized and appreciated in order to motivate them to strive for continued excellence through dedication.
The ceremony commenced with the customary illumination of the oil lamp as well as the observation of two minutes of silence. The SLAF Dancing Troupe presented a variety of cultural acts at the event. The Commander and other dignitaries were welcomed by the Chairman of the Organizing Committee, Air Vice Marshal Lasitha Sumanaweera. The Commander addressed the audience after the trophies were awarded, praising the value that everyone who was honoured during the ceremony had contributed to the SLAF and inspiring all Airmen and Airwomen to continue striving for excellence in the years to come.
Based on criteria established by respective directorates, finalists were nominated for consideration and further selection was done by an independent panel that was appointed by the Commander of the Air Force, to honour them as outstanding performers in each trade and for their contribution to the development of the SLAF during the year 2022. Accordingly, the candidates who obtain the highest points from the selection process are awarded the "Most Outstanding Airman and Airwoman" trophies with attractive cash rewards.

This year, Warrant Officer RGS Priyankara (Catering Specialist) from the No.01 Leisure and Recreation Wing at SLAF Academy Chinabay and Corporal Lakshika AP (Ground Stewardess Assistant) from the Officers' Mess at SLAF Base Katunayake were named the Most Outstanding Airman and Airwoman for the Year 2022.
The team from the Air Defence Radar Squadron from SLAF Station Mirigama won the "Best Research Team" award this year having obtained the highest points during the selection process. The team won this award for its research on "Air Defence Simulator System at Air Defence Operation Centre".
The award for the Best Quality Control Circle (QCC) was yet again won by the QCC titled "Diya Pibiduma"—Pure water runs life—forwarded by the SLAF Combat Training School at Diyatalawa. This year, the award for the Best Environment Management Project for the year 2022 was secured by Sri Lanka Air Force Station Palavi.
The event was attended by the Chief of Staff, members of the Air Force Board of Management, senior officers of the SLAF, officers, other ranks and their beloved family members.
AIRMEN AIRWOMEN

Best Air Operations Tradesman
Coporal Wijesiri HHMSPB

Best Ground Operations Tradesman Best Ground Operations Tradeswoman
Flight Sergeant Wickramasinghe MPAR Sergeant Kanchana WDD

Best Aeronautical Engineering Tradesman Best Aeronautical Engineering Tradeswoman
Sergeant Chathurika DDI Sergeant Abeysundara AMD

Best General Engineering Tradesman
Sergeant Maduranga HKS

Best Electronics &Telecommunications
Tradesman
Sergeant Jayalath JPC

Best Information Technology Tradesman Best Information Technology Tradeswoman
Coporal Madushanka MMS Corporal Gunathilake KMSH

Best Logistics Tradesman Best Logistics Tradeswoman
Warrant Officer RGS Priyankara Corporal Lakshika AP

Best Administrative Tradesman
Sergeant Shanaka SMS

Best Civil Engineering Tradesman
Sergeant Thilakarathna HMHK

Best Health Services Tradesman Best Health Services Tradeswoman
Flight Sergeant Edirisinghe EASP Corporal Sandamali MDDN

Best Provost Tradesman Best Provost Tradeswoman
Warrant Officer KDN Jayalal Corporal Chathurangi WMD

Best Physical Training Tradesman Best Physical Training Tradeswoman
Flight Sergeant Ranasinghe MASB Corporal Sumanarathne NGNSS

Best Performing Arts Tradesman Best Performing Arts Tradeswoman
Corporal Muthukumarana MPSP Corporal Dinusha KG

Best Support Services Tradesman
Corporal Bandara HMDJ