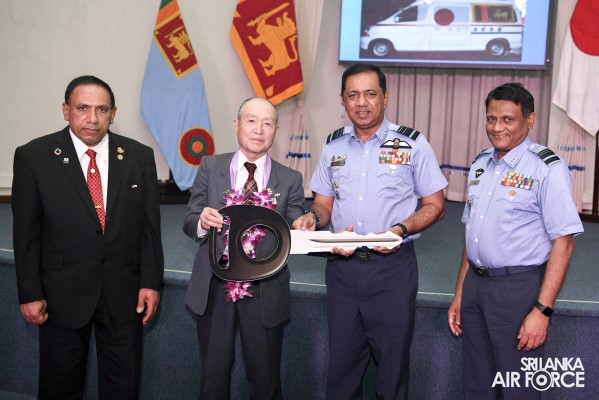 JAPAN - LANKA FRIENDSHIP ASSOCIATION DONATES AN AMBULANCE AND A CONSIGNMENT OF READING SPECTACLES TO THE SLAF
4:58pm on Thursday 23rd March 2023
The Japan-Lanka Friendship Association, with the generous support of the Toji family, handed over a Nissan Ambulance and a consignment of reading spectacles to the Sri Lanka Air Force today (23 March 2023) in a ceremonial procession at Air Force Headquarters. The delegation officially handed over the vehicle to the Commander of the Air Force, Air Marshal Sudarshana Pathirana, during the colourful ceremony.

In appreciation of the donation, a special cultural programme was held at the Air Force Headquarters auditorium, with the objective of making the day memorable for the Japanese delegation. The friendship between the Japan-Lanka Friendship Association and the Sri Lanka Air Force dates back to 2015 and has been strengthened by the generous donations of 10 Fire Vehicles, eight Ambulances, three Turntable Ladder Vehicles and one Fire Car.

The event was attended by President of Hashima Glass Company Limited, Mr. Toji Ellchi, the President of the Fukino Kai and Chairperson of the Hashima Taiko Group, Mrs. Toji Kyoko, Director of the Tostem Company, Mr. Watanabe Kunio, the President of the Japan Lanka Friendship Association, Dr. Lal Thilakaratne, Chairperson SLAF Seva Vanitha Unit, Mrs. Charmini Pathirana, Chief of Staff, Deputy Chief of Staff, Members of the Air Force Board of Management, Commanding Officer SLAF Station Colombo, Air Commodore Suresh Fernando, a cross-section of officers, airmen and airwomen.