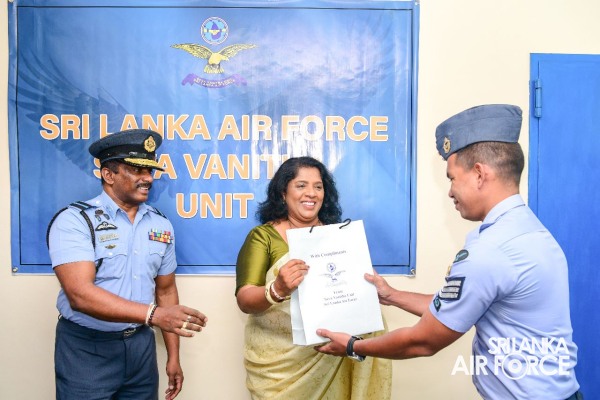 SLAF SEVA VANITHA UNIT CONDUCTS A SPECIAL SEASONAL OFFERING DURING RAMADAN KAREEM
4:59pm on Thursday 23rd March 2023
Amidst the vibrant festivities of the holy month of Ramadan, the SLAF Seva Vanitha Unit spread the spirit of generosity and concern amongst the Muslim service personnel and civilian employees. In a truly heartwarming gesture, the unit organized a special seasonal offering under the patronage of the Chairperson SLAF Seva Vanitha Unit, Mrs. Charmini Pathirana, and with the generosity of the Embassy of Saudi Arabia in Sri Lanka.
The event took place at the SLAF Seva Vanitha Unit today (23 March 2023) was attended by the Air Secretary, Air Commodore Anuruddha Wijesiriwardena, the Secretary SLAF Seva Vanitha Unit, Wing Commander Suresh Fernando and the staff of the SLAF Seva Vanitha Unit.

This occasion featured as a testament to the SLAF Seva Vanitha Unit's continuous dedication to the development of diversity and equality as well as the fostering of a harmonious work environment. The Seva Vanitha Unit came together to spread love, kindness and generosity in Ramadan Kareem, demonstrating that the spirit of the month is indeed truly alive and well within.