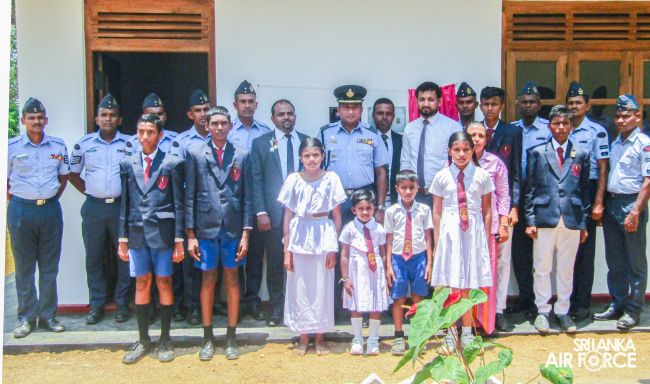 SLAF STATION PALAVI CONDUCTS A SPECIAL RENOVATION PROJECT AT BALALLA SOBITHA VIDYALA, MAHO
9:08pm on Wednesday 29th March 2023
A special renovation project was successfully completed at Balalla Sobitha Vidyala in Maho yesterday (28 March 2023) under the guidance of Commander of the Sri Lanka Air Force, Air Marshal Sudarshana Pathirana. The project was undertaken by SLAF Station Palavi and the school library building, which had not undergone any renovations for years, was renovated to provide a pleasant educational environment for the approximately 150 students enrolled in the school.

The renovated building was formally handed over to the students and teachers of Balalla Sobitha Vidyalaya by the Commanding Officer of SLAF Station Palavi, Group Captain Kolitha Weerasekara. The event was attended by a cross-section of officers and other ranks from SLAF Station Palavi, as well as the school's principal, teachers and students.

This renovation project marks a significant milestone in the ongoing efforts to improve the educational infrastructure in Sri Lanka. The Sri Lanka Air Force, through SLAF Station Palavi, remains committed to supporting the development of education in the country, and this project serves as a testament to that commitment.