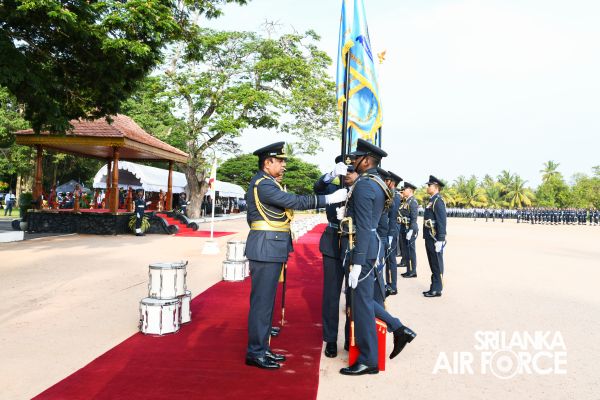 SLAF ESTABLISHMENTS HONOURED WITH STANDARDS
4:22pm on Monday 24th April 2023
The 'Standard' is the paramount accolade a military establishment could receive in its life span. For the first time in the SLAF history, the 'Standards' were presented to 21 establishments and formations that have been in existence over 15 years and are engaged in operational and supporting duties either within or outside of an operational area. Standards are presented to the fighting formations, which include operational flying squadrons, operational regiment squadrons, and operational support formations.

The recipients of the formation standards have contributed to safeguard the country in many situations, including high-intensity conflict, disaster relief operations, medical and casualty evacuations, surveillance and reconnaissance, and ground support for the combat troops.

12 Air Force establishments, 02 flying formations and 07 other formations of SLAF were honoured by the Commander of the Air Force, Air Marshal Sudarshana Pathirana with the awarding of the Formation Standards in a spectacular parade held today (24 April 2023) at SLAF Base Katunayake.

The Chief Guest, the Commander of the Air Force, Air Marshal Sudarshana Pathirana was received by the Chief of Staff, Air Vice Marshal Udeni Rajapaksa. The Standards Awarding Parade was commanded by Commandant SLAF Academy China Bay, Air Commodore Deshapriya Silva. The parade comprised of three squadrons with nine flights.

Subsequent to the ceremonial proceedings, the Chief Guest delivered the speech to the parade, emphasizing the significance of upholding "Professionalism, Patriotism and Integrity" in the service.

Members of the Air Force Board of Management, Senior Officers and a cross-section of Other Ranks were also present at the occasion.
The following were bestowed with esteemed Standards due to the valiant efforts made by these establishments and formations, which have been saved countless military and civilian lives.

SLAF Establishments
Sri Lanka Air Force Base Katunayake
Sri Lanka Air Force Academy China Bay
Sri Lanka Air Force Base Ratmalana
Sri Lanka Air Force Base Anuradapura
Sri Lanka Air Force Base Vavuniya
Sri Lanka Air Force Base Hingurakgoda
Sri Lanka Air Force Station Colombo
Sri Lanka Air Force Regiment Training School Vanni
Sri Lanka Air Force Station Palaly
Sri Lanka Air Force Station Ampara
Sri Lanka Air Force Station Batticaloa
Sri Lanka Air Force Station Morawewa

Flying Formations
No. 3 Maritime Squadron - Sri Lanka Air Force Academy China Bay
No.111 Unmanned Aerial Vehicle Squadron - Sri Lanka Air Force Base Vavuniya

Other Formations
Aircraft Engineering Wing - Sri Lanka Air Force Base Katunayake
General Engineering Wing - SLAF Base Katunayake
Air Defence Command & Control Centre - Sri Lanka Air Force Station Mirigama
No 32 Land Based Air Defence Wing - SLAF Station Colombo
Regiment Special Forces Wing - Sri Lanka Air Force Station Morawewa
No. 46 Special Air Borne Force Wing - Sri Lanka Air Force Regiment Training School Vanni
Explosive Ordnance Disposal Training School - SLAF Station Palavi