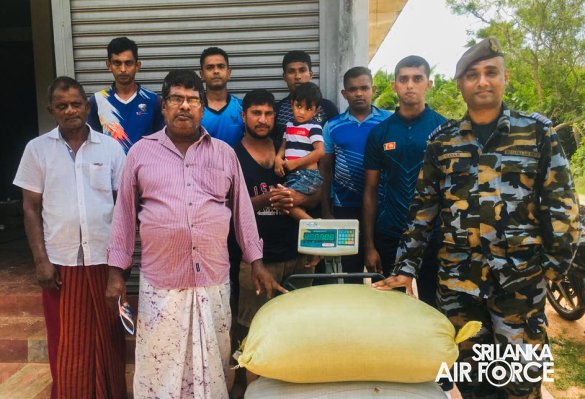 NEW PADDY PURCHASING INITIATIVE OF STATION MORAWEWA STRENGTHEN RURAL FARMERS ECONOMY
11:24am on Tuesday 2nd May 2023
The Sri Lanka Air Force (SLAF) Station Morawewa being SLAF agricultural pivot has taken many significant steps towards uplifting the economy of rural farmers in selected areas around Morawewa. Its newest edition of special Community Development Project was launched recently to purchase paddy from farmers in Morawewa, Horowpothana, Galenbindunuwewa, Kiwlekada, Mahadeulwewa, and Thiriyaya at the government stipulated price.

This project is a clear demonstration of the directions of Commander of the Air Force, Air Marshal Sudarshana Pathirana that SLAF Station Morawewa commits to compensate for the community development and sustainability. It is a positive step towards empowering rural farmers and supporting their livelihoods. The project is not only benefits the farmers but also contributes to the country's overall economic growth.

Currently, the project has purchased and collected paddy of White Nadu, Kiri Samba, Samba and Red Nadu on a mutually benefitted scheme. Additionally, this advantageous project is expected to generate the maximum production capability of the agro products of SLAF Station Morawewa by using their own paddy fields as well as external resources, resembling these rural farmers. Equally, this project is to become strength to the rural community of the area, while producing a continuous supply of quality rice for SLAF personnel.