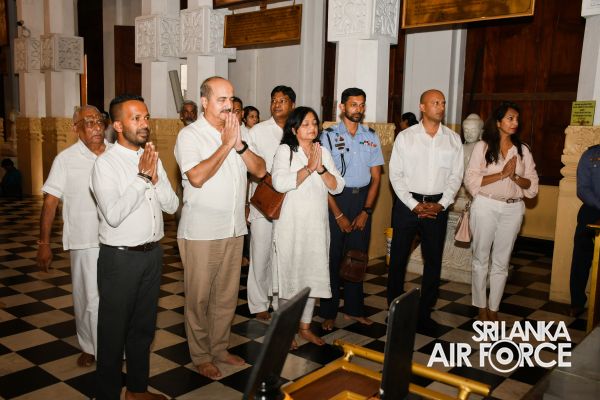 VISITING INDIAN AIR CHIEF PAYS RESPECTS TO THE SACRED TEMPLE OF THE TOOTH RELIC
11:47am on Thursday 4th May 2023
Air Chief Marshal Vivek Ram Chaudhari, the visiting Chief of the Air Staff of the Indian Air Force, and the President Indian Air Force Wives Welfare Association, Mrs. Neeta Chaudhari made a homage visit to the Temple of the Tooth Relic in Kandy, Sri Lanka. The temple, also known as Sri Dalada Maligawa, is a sacred Buddhist shrine that holds the revered relic of the tooth of the Buddha. It is considered one of the most sacred sites for Buddhists worldwide and is a significant cultural and religious landmark in Sri Lanka.
The Air Chief Marshal's visit to the Temple of the Tooth Relic was a testament to the deep-rooted cultural and religious ties that exist between India and Sri Lanka. The temple has a long and rich history, dating back to the 4th century when it was first built. The Temple of the Tooth Relic is not just a religious site, but it also holds great historical and cultural significance. It is a testament to the island's rich heritage and its people's devotion to their faith. The temple attracts millions of visitors every year, and it is a symbol of Sri Lanka's vibrant cultural identity.
During his visit, Air Chief Marshal Chaudhari was given a guided tour of the temple, museum and its surroundings. He was able to witness the splendour of the temple's architecture and the intricate details of its interior design. He also had the opportunity to witness the daily rituals and ceremonies conducted at the temple, which highlight the rich cultural and religious heritage of Sri Lanka.