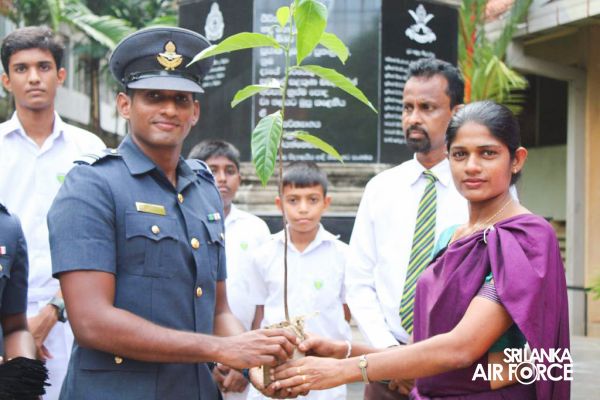 GUWAN HAMUDA HERALI PERALIYA MOVES BEYOND
2:55pm on Monday 22nd May 2023
The SLAF recently executed a highly successful initiative called "Guwan Hamuda Herali Peraliya" moved forward with introducing schools across Sri Lanka. This program has been implemented with the primary objective of supporting the government's mission to achieve food security, while concurrently striving to plant one million Jackfruit trees throughout the country within a span of five years. Therefore, a step of this noteworthy event took place on 19 May 2023 at Sri Sumangala College in Panadura under the guidance of the Commander of the Air Force, Air Marshal Sudarshana Pathirana.
The event was organized, featuring the active participation of the personnel from the SLAF, the respected Principal of Sri Sumangala College, Mrs. Sinali De Silva, as well as the teachers and enthusiastic students of the school.
This inspiring initiative undertaken by the Sri Lanka Air Force, in collaboration with educational institutions such as Sri Sumangala College, highlights the collective determination to contribute to the nation's larger objectives. The program aims to promote sustainable agricultural practices, bolster food security and foster environmental conservation. By engaging the younger generation and utilizing educational institutions as centers of action, this endeavor exemplifies a harmonious fusion of national goals and educational development.