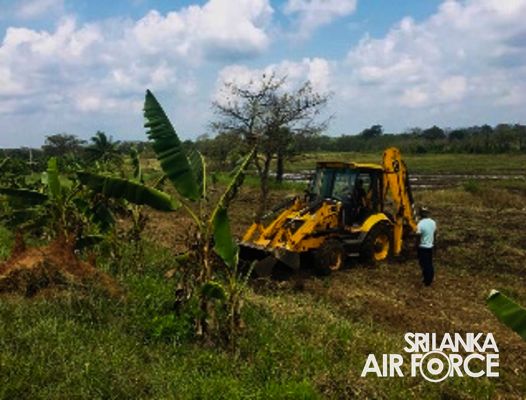 UPGRADING AGRICULTURE FACILITIES TARGETING THE "YALA SEASON" AT SLAF STATION MORAWEWA
3:40pm on Monday 22nd May 2023
SLAF Station Morawewa, renowned as a pioneering establishment in the production of high-quality rice for all service personnel in the Air Force, has undertaken significant strides under the guidance of the Commander of the Air Force, Air Marshal Sudarshana Pathirana and under the supervision of Commanding Officer SLAF Station Morawewa, Group Captain Hemantha Balasooriya. By incorporating several innovative advancements, the station has diligently worked towards augmenting both the quality and quantity of rice production. With unwavering dedication, every inch of arable land within the station premises has been wisely utilized to expand the crop area for paddy cultivation, ensuring maximum harvest during the Yala season.

With the inclusion of a brand new rotavator, this modern mechanized equipment has remarkably reduced the necessity for manual labour while significantly minimizing the time required to accomplish the task. Consequently, it has resulted in the improvement of soil characteristics to an optimal quality, favourably influencing the growth of paddy plants and facilitating overall development.

Moreover, the diligent excavation and thorough cleansing of the water canals at Indiwewa cultivation have been undertaken with the objective of enhancing the irrigation system within the paddy fields. This meticulous endeavour is anticipated to greatly enhance the supply of water to the paddy plants, ensuring that each and every shrub receives an optimal level of moisture crucial for attaining a maximized yield.