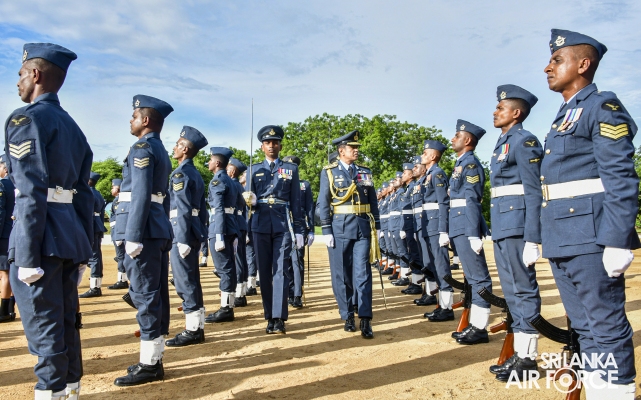 COMMANDER'S INSPECTION OF SLAF STATION WEERAWILA
11:34pm on Thursday 9th November 2023
The Commander of the Air Force, Air Marshal Udeni Rajapaksa, conducted the Annual Commander's Inspection at SLAF Station Weerawila today (09 November 2023).

Commanding Officer of SLAF Station Weerawila, Group Captain Suresh Jayasinghe received the Commander on his arrival and a Street Line was accorded to the Commander. The Commander reviewed the Commander's Inspection Parade, and the certificate of commendation was awarded to the following service person in recognition of his meritorious contribution to the Station and to the Air Force.

Corporal Uduwage AC (AC Mechanic II)

During the course of the inspection, the Commander visited the Station Headquarters, No. 41 Regiment Wing, No. 3 Air Defence Radar Squadron, and all other areas of the Station.

Concluding the inspection, the Commander addressed all ranks and civilian employees of the Station and stressed that every member must strive to contribute 100% with Professional Excellence, Integrity and Discipline, to ensure the pursuit of " excellence in all we do" within the context of the professional Air Force. Finally, the Commander commended the Commanding Officers and his team for their hard work in preparing the station to the standard required for the Commander's Inspection.