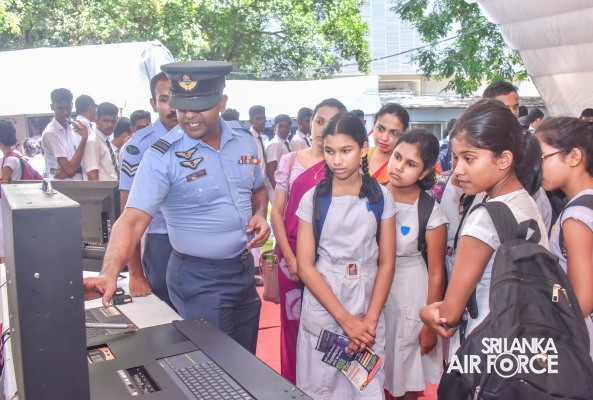 SLAF COLLABORATES WITH THE MINISTRY OF EDUCATION IN CELEBRATING NATIONAL SCIENCE DAY
11:39pm on Saturday 11th November 2023
SLAF actively participated in the exhibition conducted by the Ministry of Education in commemoration of the National Science Day from 08 to 10 November 2023 at the National Museum under the guidance of the Commander of the Air Force, Air Marshal Udeni Rajapaksa.

Several Research and Development projects undertaken in SLAF were demonstrated during this exhibition, which includes the Lihiniya and Hand Launched Unmanned Aerial Vehicles, Remote Firing Mechanism, Vehicle Tracking and Monitoring System and Vehicle Checking Robotic Vehicle designed by the Aeronautical Research & Development Wing at Sri Lanka Air Force Station Katukurunda. Research and Development Wing at SLAF Base Katunayake showcased an in-house fabricated Plastic Shredder Machine used for waste management purposes, systems to empower renewable energy and products of the Paper Recycling Project.

Further, the Electronics and Telecommunication Engineering Wing at SLAF Base Ratmalana showcased their engineering capabilities by demonstrating the ADS-B Aircraft Monitoring System and IP-based Ground to Air Communication Monitoring Systems. Further, the Electronics & Telecommunication Engineering Wing at SLAF Base Katunayake presented the recently developed Aircraft Data Recording and Play Back System, No 01 Information Technology Wing at SLAF Base Ratmalana putting forward their IT capabilities by showing software applications using artificial neural networks.

No. 02 Information Technology Wing at SLAF Trade Training School Ekala displayed the Geo-Informatics System and Remote Sensing applications. In addition, the EOD Robotic Vehicle developed by the Explosive Ordnance Disposal Training School SLAF Station Palavi got the attraction of the crowd. In addition to innovative exhibits, the Air Force Museum featured a wide variety of aircraft models, giving guests an insight into the extensive aviation background and legacy of SLAF. In addition, the Command Recruiting Office took the opportunity to provide the public with vital information about recruitment, supporting the Air Force's continuous personnel management initiatives.

The SLAF's commitment to innovation and enhancement of renewable energy was emphasized at the "Science Exhibition -2023." Research and Development Division at AFHQ successfully coordinated this event with active participation of all other engineering formations in SLAF.