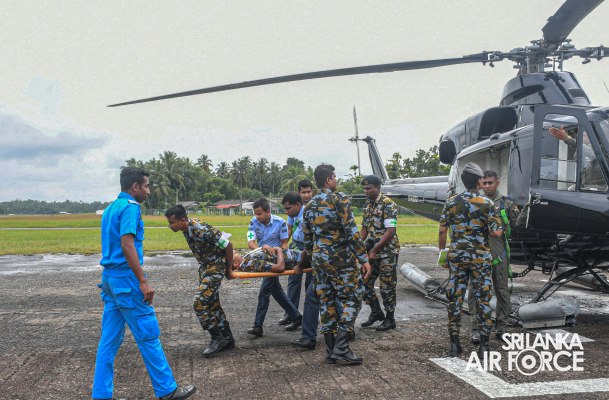 HADR EXERCISE SIMULATION AT SLAF STATION KATUKURUNDA
3:08pm on Thursday 16th November 2023
SLAF Station Katukurunda, under the overall command of Group Captain MP Abeywickrama, successfully conducted a simulated Humanitarian Assistant Disaster Relief (HADR) Exercise on 14 November 2023 across the flood-prone areas of Kaluthara District: Meegahathenna, Ingiriya and Bulathsinghala.

The multifaceted mission exercise, comprising calibration of the Airborne Tracking and Monitoring Device developed by the Aeronautical Research and Development Wing at SLAF Station Katukurunda, two CASEVAC missions, confined area landing and manoeuvring, three helipad air reconnaissance missions, a ground reconnaissance mission for the Disaster Assistance Response Team (DART), a pilot incapacitation simulation and dry rehearsals on manoeuvring with helicopters for the DART crew, Fire crew and Medical crew of both Station and General Hospital Kaluthara, was successfully brought off, enhancing the skills of personnel involved whilst providing exposure to real-time experience in a disastrous situation.

The overall exercise manifested a higher degree of preparedness, operational responsiveness and professionalism of the respective SLAF elements in executing meticulous procedures in the course of mobilizing in response to a disaster. The Bell 412, manned by a qualified aircrew from the No. 4 Squadron, played a vital role in executing the simulation, showcasing its agility in manoeuvring over confined areas. The exercise was comprised of members of the Medical teams from SLAF Station Katukurunda and SLAF Base Ratmalana, intensive care teams of Kaluthara General Hospital, DART, Fire and the supporting element from Station Katukurunda.