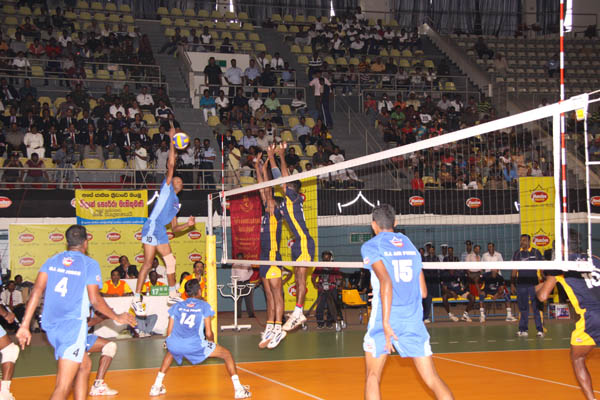 5:29pm on Monday 15th March 2010
The SLAF team entered the finals of the National Super League Volleyball Tournament 2010 displaying their skill, experience and competence. In their final match, they faced the equally professional Army soldiers.
It was a thrilling encounter in which neither gave a quarter .The games was played on 13th March 2010 at Sugathadasa Indoor Stadium.
The 1st half of the first set was lead by the Airmen, but the Soldiers won the set by 25-23. In the 2nd set Airmen took the lead and won the set very comprehensively by 25-18 which was largest margin in a set in the game. The third set ended with the Army 36 and the Air Force 34. After a stunning display of sportsmanship, courage, dedication and commitment by both teams that only can be seen in an inter services game, the Army won the final 26-24 to clinch the National title.
In the qualifying stages, the Airmen dominated the whole series and were able defeat the Army team as well as Sri Lanka Police, Railway Department, Ports Authority and Youth Services combine teams.
Honorable Minister Dilan Perera graced the occasion as the Chief Guest and Acting Chief of Defence Staff and Commander of the Air Force Air Chief Marshall Roshan Goonetileke was the Guest of Honor.
And the awards were given to
Best All Round Player - MM Rifki - Sri Lanka Air Force
Best Receiver - Susiri mangala - Sri Lanka Air Force
Best setter - Nishantha Ranathunga - Sri Lanka Army
Best Blocker - Priyantha Rajapasksha - Sri Lanka Army
Best Server - Pradeep Milroy - Sri Lanka Army
Best Defender - Lasantha Abeyrathna - Sri Lanka Army
Best Attacker - Nishantha Kotelawala - Sri Lanka Army
During the past few years Sri Lanka Air Force Mens Volleyball players has shown their talents during these tournaments
1995 - National champions
1995 - Rupavahini Trophy Champions
1996 - Rupavahini Trophy Champions
1997 - Rupavahini Trophy Champions
2000 - Rupavahini Trophy Champions
2001 - Rupavahini Trophy Champions
2003 - National Super League Champions
2004 - National Super League Runner Up
2006 - National Super League Runner Up
2010 - National "A" Division Champions