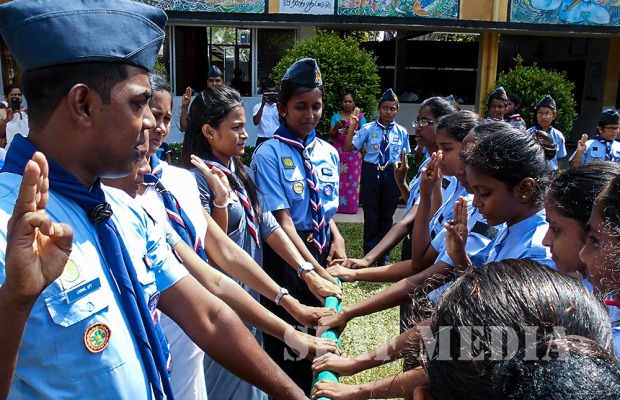 Success Story of 1st Girls Air Scout Troop
8:36am on Thursday 14th June 2018
The Membership Badge Awarding Ceremony for 33 Junior Girls Air Scouts of the Air Scout Troop of St. Anne's Girls College was held on 12 June 2018. Group Captain JAPS Jayawardena, Chief Group Scout Master of Sri Lanka Air Force Air Scout Group and Wattala Jaela District Scout Commissioner Harsha Geeth Guruge participated as the Chief Guests.

Vice President of the National Scout Headquarters Executive Committee Rev. Brother Kumarasinghe Perera, St. Anne's Girls College Principal and former scout leader Rev. Sister Kanthi B. Perera, Wattala Jaela Assistant District Commissioner Dammi Priyanka, Assistant District Commissioner Thilina Rajapaksha, Assistant District Commissioner Janaka represented the Wattala - Jaela District Scout Association graced the occasion representing scout movement.

Wing Commander LSR Pagoda, Group Scout Master of 57th Colombo Air Scout Group, Squadron Leader HMRK Perera, Group Scout Master of 1st Meegamuwa Air Scout Group and other Scout Masters of the Sri Lanka Air Force also participated for the Ceremony.