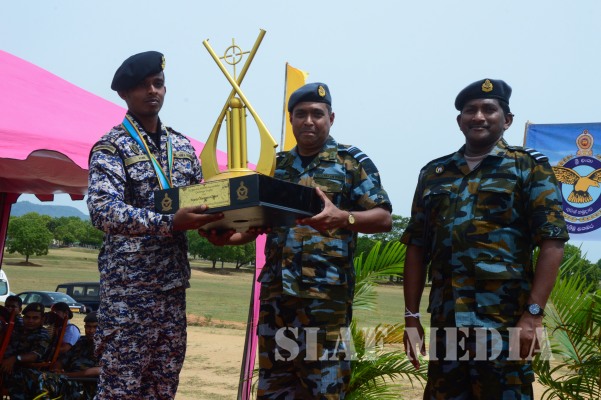 Inter Unit Shooting Championship 2018
7:23pm on Tuesday 26th June 2018
SLAF Station Morawewa and SLAF Station Ampara emerged the Men's and Women's Champions respectively at the Inter-Unit Shooting Championship 2018 which was concluded today (26 June 2018) at the Air Force Firing Range, Ampara.
SLAF Combat Training School Diyatalawa secured the runners up position in both Men's and Women's categories.
Director General Engineering of the SLAF, Air Vice Marshal Andrew Wijesuriya graced the occasion as the chief guest. Chairman SLAF Shooting Air Commodore GGWTK Gunawardana, Officers and other ranks of the SLAF also witnessed the event.
Individual Champion Men's

1st place - Leading Aircraftman Karunanathike AWRD (SLAF CTS Diyatalawa)
2nd place - Corporal Wickramasinghe MAPR (SLAF Station Morawewa)
3rd place - Leading Aircraftman Wickramanayke HM(Regiment, SLAF Kat )
Individual Champion Women's

1st place - Leading Aircraftwoman Madumali WHMP (SLAF CTS Diyatalawa)
2nd place - Leading Aircraftwoman Sandhaya Kumari KPC (SLAF Station Ampara)
3rd place - Leading Aircraftwoman Darmarathne DMLP (SLAF Station Ampara)
Individual Best Officer

Flying Officer DMCAK Bandaranayake (SLAF Station Morawewa)