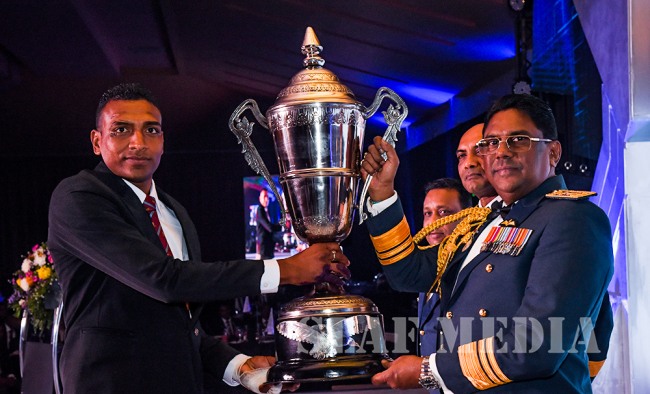 SLAF Sports Men and Women Honored at Air Force Colors Night 2018
8:03pm on Tuesday 28th August 2018
The Air Force Colours Night 2018, was held today (28 August 2018) at a gala ceremony at the Eagle's Lakeside Banquet and Convention Hall. The Commander of the Air Force, Air Marshal Kapila Jayampathy graced the occasion as the Chief Guest.

The Air Force Colour Night is an acknowledgement of the achievements of the sports personalities in the Sri Lanka Air Force. These achievements are the outcome of commitment, sacrifice and sweat of all stakeholders in the sphere of sports disciplines in the SLAF.

The Group Captain Roger Weerasinghe Memorial Trophy for most Outstanding Sportsman was awarded to Leading Aircraftman Dharmawardana RCM for Judo in the year 2016 and Sergeant Silva PJMJ for Cycling in the year 2017. Leading Aircraftwoman Prasadani JHD for Volleyball in 2016 and Corporal Nimali WKLA for Athletics in 2017 bagged the Flight Lieutenant Priya Abeyweeragunawardana Memorial Trophy for the most Outstanding Sportswoman.

Chief of Staff of the SLAF, Air Vice Marshal Sumangala Dias, members of the Air Force Board of Management and senior officers were present at this grand ceremony which honoured 374 sportsmen and women in 33 sports disciplines.

SLAF Trade Training School Ekala and SLAF Station Colombo awarded with the Vernon Rajapaksha Trophy for being the Best Unit in Sports of the year 2016 and 2017 respectively.

The outstanding Sport of the Year which is honoured by the President Air Force Sports Council Trophy was awarded to Women's Volleyball for 2016 and Women's Athletics for 2017 and Men's Cycling for 2016 and Men's Basketball 2017.

Meanwhile, the Most Dedicated Sports Personality of the Year award was presented to Warrant Officer SMD Ruwan Kumara (Manager Cycling) for 2016 and Master Warrant Officer GAPN Karunathilake (Manager Kabaddi) for 2017.