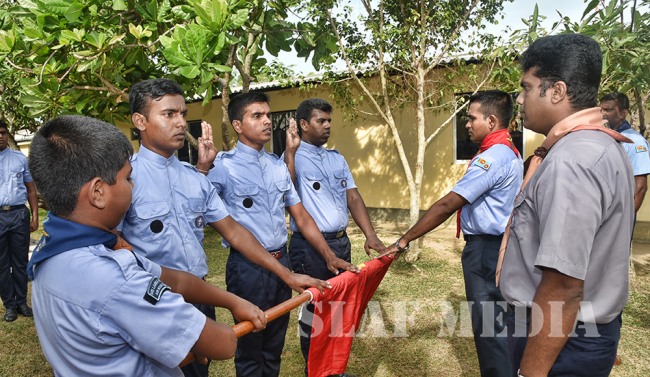 Air Rover Scout Badge Awarding Ceremony At SLAF Station Katukurunda
4:47pm on Monday 17th September 2018
The membership badges for 13 newly enlisted Air Rover Scouts were awarded at SLAF Station Katukurunda yesterday (16 September 2018). Acting Commanding Officer SLAF Stn Ktk, Squadron Leader WLI Udayakumara attended as the Chief Guest for the ceremony. Scout District Commissioner of Kalutara, Mr. H.D. Gunathilake, Assistant District Commissioners, Mr. Namal Gurusinghe, Mr. Dinu Lokuge, and Mr. Aravinda Pathirage, and Group Scout Master of SLAF Station Katukurunda Flight Lieutenant K Weerasekara were also present to witness the occasion. Air Force Officers, other scout officials and parents of the Air Scout Rovers participated in the ceremony.

Scout District Commissioner of Kalutara Mr. H.D. Gunathilake addressed the ceremony and highlighted the marked improvement of the SLAF Air Scout Group and congratulated the new Air Rovers and wished them well in their future endeavors.

The following new entrants were awarded badges under Group Scout Master (Programme and Rover) Squadron Leader Rukshan Gamlakshage.

BAKM Perera
KAL Dilmin
MGSP Reshan
GSD Sandalu
HGUN Gamage
JARN Jayalath
AKDDV Samaranayake
LS Madawala
HADD Hettiarachi
PMDH Rathnasiri
SA Gammanpila
GSR Sumanasekara
HLTP Nayodya

After this badge investiture, the strength of the Air Scout Troop of SLAF Station Katulurunda increased up to 23 Air Scouts and 13 Air Rovers.