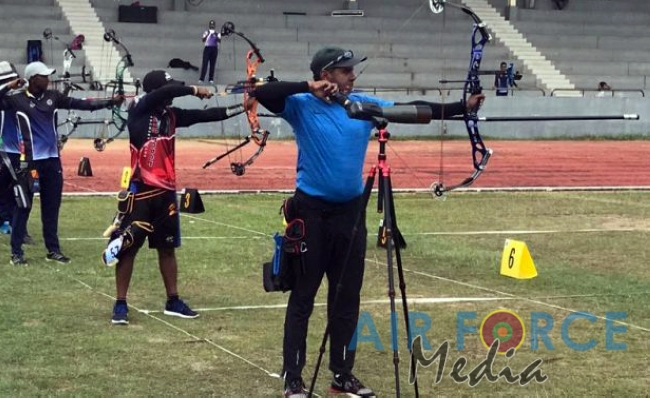 SLAF Excel at 2nd Open Archery Championship 2019
12:03pm on Tuesday 17th December 2019
The 2nd Open Archery Championship organized by the Sri Lanka Archery Association was held from 13 December to 15 December 2019 at the Mahinda Rajapaksa Stadium, Homagama. Top Archers representing 10 Archery Clubs in the country including Army, Navy and Police participated at this major Championship.

SLAF won 2 Gold, 3 Silver and 3 Bronze medals at the Championship.

Following are the medals winners of the SLAF.
Gold
70 Mtr Recurve Men's team event
Corporal Kumarasinghe SGDP
Leading Aircraftman Kumar LCP
Leading Aircraftman Thilakarathne USP

30 Mtr Women's individual event
Leading Aircraftwoman Chathurika MADD


Silver
50 Mtr Men's Compound individual event
Leading Aircraftman Perera KAUIG

70 Mtr Recurve Women's individual event
Leading Aircraftwoman Kalubowila LM

30 Mtr Women's individual event
Leading Aircraftwoman Udayangani VAN


Bronze
50 Mtr Compound mixed event
Leading Aircraftman Perera KAUIG
Leading Aircraftwoman Mallika YM

Short metric individual event
Leading Aircraftman Geenath GWA

30 Mtr Men's team event
Leading Aircraftman Athapaththu AMS
Leading Aircraftman Wickramanayake DWKDGP
Leading Aircraftman Kaldera AS